While we're always on the lookout for new and innovative mechanics and ideas for games, sometimes tried-and-tested methods can be just as exciting. Especially when you take two beloved formulas and mash them together like some kind of beautiful Frankenstein's monster. Such is the nature of exciting new gamigo and Kinship Entertainment title Skydome, which is billed as part-MOBA and part-Tower Defence. Basically, two of the most addictive genres in one - so goodbye free time.
Housing the customary slew of colourful heroes, the Skydome is a floating temple created by an 'ancient people'. Champions from far and wide are tasked with taking on armies and monsters from across the universe through the power of towers and unique abilities. The aim of the game is teamwork, with the outcome of each skirmish hinging on the synergy between teammates and their best strategies as they complete objectives and fend off hordes.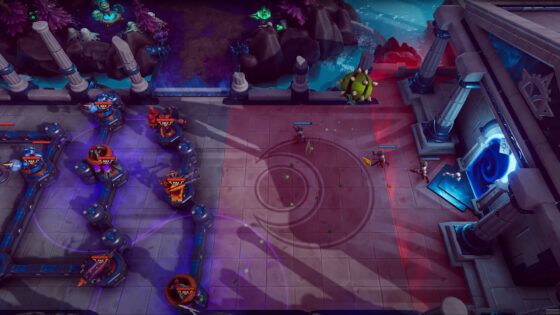 The main features are as follows:
A roster of diverse Champions with unique skills and powers

Isometric 3D action strategy gameplay

Deploy walls and towers to fortify your map

Use of 'Intervention Skills' to disrupt enemy defences

MOBA-style jungle areas with unique bosses

Invasion System: defeat waves of invading monsters by utilising buffs, extra troops and more

4v4 Multiplayer Matches

Seasonal ranking system upon release
While we're yet to see a concrete release date, we'd wager there isn't long to wait before we can dive into the Skydome. By visiting the official website prospective players can sign up for the Beta as well as clue themselves up on the roadmap as it develops, with gamigo and Kinship Entertainment releasing regular updates, gameplay elements, additional Champions, and much more. So watch this space as we anticipate it's final release!
MMOGames.com is committed to bringing you all the freshest, funniest, and most insightful MMO news. If you enjoyed this content, why not share it with your community? And make sure that you never miss our updates and exclusive giveaways by following and favouriting us on Instagram, Twitter, and Facebook.