Star Trek Online is a free-to-play sci-fi MMORPG set in the famous Star Trek universe created by Gene Roddenberry. In this massively multiplayer online game from Cryptic Studios, players can pioneer their own destiny as Captain of a Federation starship. Or they can become a Klingon Warlord and expand the Empire to the far reaches of the galaxy. Players can even work to rebuild the Romulan legacy as a member of the Romulan Republic. Embark on adventures throughout the Star Trek universe, and go where no one has gone before.
Star Trek Online: Legacy is now live on PC and launches on PlayStation®4 and Xbox One March 3.The game's newest update pays loving tribute to all the different Star Trek series featured in the game over the last decade. Captains will face off against iconic enemies from some of the game's most popular content updates, while teaming up with some of Starfleet's finest, who represent the epitome of good. This includes former Borg drone and U.S.S. Voyager crew member, Seven (voiced by Jeri Ryan), from the brand new Star Trek: Picard series and Starfleet's brilliant commander, Michael Burnham (voiced by Sonequa Martin-Green), from the popular Star Trek: Discovery series. Star Trek Online: Legacy also introduces a brand new space TFO and special anniversary events that allow players to earn the all new Khitomer Alliance Battlecruiser.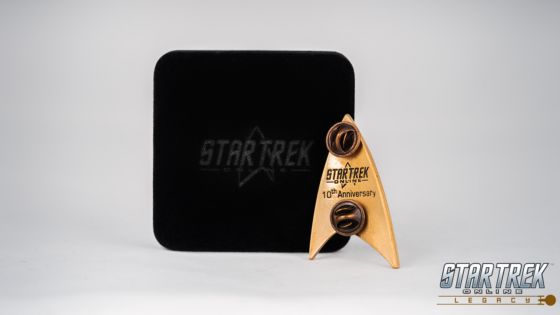 What You Get From The Star Trek Online Legacy Federation Fleet Admiral Giveaway
NOTE: The keys from this giveaway are valid only for the PC version of Star Trek Online. They will NOT work for console versions!

Limited Edition STO Anniversary Badge

T6 Valiant (Escort Vessel)

T6 Andromeda (Cruiser Vessel)

T6 Pathfinder (Science Vessel)

2 Ship Slots

1 Caitian Bridge Officer

Racing Uniform

1 Exocomp Pet

Title: Voyager

Title: Seeker

Title: Pathfinder
This bundle is comprised of 3 different styles of Starships as listed above along with faction related items to begin your adventure as a future Federation Fleet Admiral! *Available for Federation Captains only.
Note: Winners will need to provide their Full Name, Mailing Address, Email Address, and Phone Number to receive the Limited Edition STO Anniversary Badge from Perfect World Entertainment. This giveaway is limited to North American PC users.
Star Trek Online Legacy Federation Fleet Admiral Giveaway (PC NA Only)