The Smite World Championships were held over the last week. The day before the event we ascended to the figurative Mount Olympus that is Hi-Rez Studios. The inaugural SWC is arguably the most important time in the studios ten year history. As I enter the front door the team shows little signs of letting the stress effect their attitudes. The energy is vibrant and the smiles run rampant.
I want to take a moment to be completely honest. In the months prior to the SWC I had very little interest in SMITE and almost no intention of ever trying it. I considered myself a bit of a MOBA snob, and passed premature judgment on the game. To me, it was DOTA or nothing. After getting an in depth look at Hi-Rez's approach to development, I quickly found that I was dead wrong.
Hi-Rez Studios was founded in 2005 by Erez Goren and Todd Harris. Goren got his start making small independent games in the 80s for the Atari platform. As most of us know in the mid 1980s the market took a crash. His dream of working in the videogame industry was soon put on hold.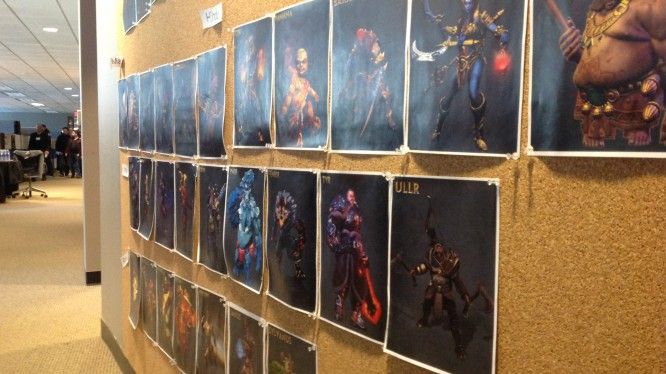 Instead of letting the bad situation get the better of him Erez Goren Co-founded Radient Systems. Over the course of the next decade he grew that company in to one of the largest providers of retail point-of-sale systems.
Many of the systems we use in retail stores today are due in part to development by Goren and his team. Working alongside Todd Harris they helped lead the industry in the evolution of the touch screen technology that we see in gas stations, restaurants and almost anywhere we encounter customer service. From the inception of Radient Systems in 1992 until his departure in 1999, Goren and his team brought revenues up from a little over 1 million dollars to over 130 million.
He wasn't done yet though, in 1999 Goren founded another company. His next venture, BlueCube software developed applications for large enterprises. Blue Cube has software installed in over 25,000 different sites. Now that Goren had his foot firmly planted in this world it was time to pursue his lifelong passion of videogames. In 2004 he sold BlueCube to form Hi-Rez studios with long time friend and coluge, Todd Harris.
They quickly set to the task of creating high quality free to play games. After five years in development their first project, Global Agenda, launched in 2010. Global Agenda received critical acclaim among critics and found moderate success in the community, finding a niche audience that was really passionate about the game. While not a huge commercial success, there was no doubt that Global Agenda was a blast to play and a huge mile marker for the studio.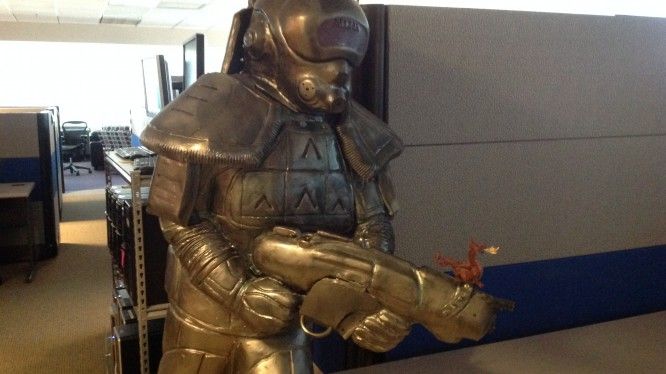 It wasn't long after Global Agenda launched that Hi-Rez announced its next release. This time they were heading in to the world of first person shooters. In 2011 Tribes Ascend was announced and the game officially hit the internet on April 12th 2012. Critics were absolutely astounded. The newest iteration of the franchise was a true return to form.
It was clear that Hi-Rez paid close attention to what made the franchise great and replicated it with their own twist. I personally loved Tribes Ascend it was everything the game needed to be, and succeeded where previous recent iterations of the franchise had failed. Again in previous fashion, while the game was applauded by critics and fans, it failed to get the huge financial success the company was hoping for. They weren't about to give up though.
What originally started as a new MOBA style game mode for global agenda, eventually became the game we know as SMITE. COO Todd Harris was very proud of the fact that the company has no problem scratching projects that don't live up to their expectations. While a MOBA style map for Global Agenda was just not meant to be the project lives on in some form. In a matter of weeks the theme was quickly changed from a Sci-Fi shooter to the mythological game we now know as SMITE.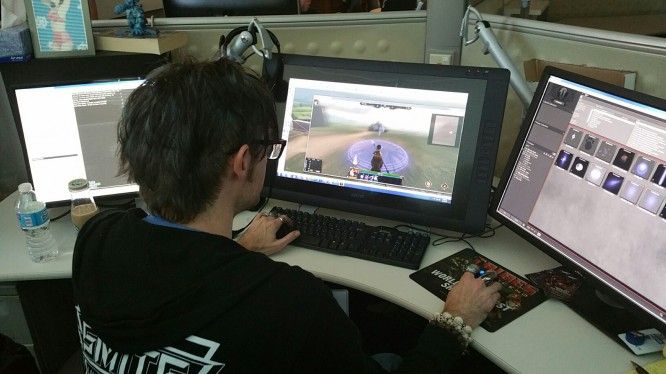 Since its launch last year, there is no doubt that SMITE is the fastest growing game in the genre. After touring the studio, playing the game and talking to fans there was very little doubt why. The manner in which Hi-Rez handles everything from top to bottom has help ensure that they deliver the finest quality product possible. It appears that they have hit solid gold with SMITE.
To start off the game is insanely fun to play. The transition to an over the shoulder view point makes for an exciting experience. Everything you know and love from the MOBA genre is present in the game. After spending fifty or so hours with the product, it is apparent a lot of RND was done to make sure that SMITE was a game that the masses would enjoy
It's often downplayed, but the treatment of employees is essential to a company's success. Happy employees are productive employees. Hi-Rez succeeds on a massive level here. While touring the studio, the first room we were introduced to is known as "the beehive". This area serves as a central break room and meeting place for Hi-Rez employees.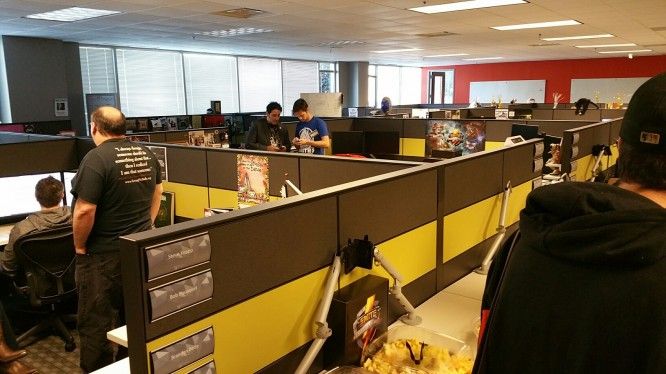 One thing that really caught my attention while in the beehive was the huge variety of amenities. The break room was equipped with a soda fountain, nut and candy dispensers', a wide variety of premium coffees (from beans not grounds) and more Red Bull than one person would know what to do with. Throughout the entire studio I did not see one vending machine, everything was freely available. While this may seem like a small thing, these intangible benefits go a long way to making for a productive and passionate staff.
Hi-Rez also has an effective workflow process for SMITE. The way they handle the development allows for quick content production. They release new gods on a regular basis. After the initial brainstorming, the production is split in to two sides. One side that does the art concepts, god research and gathers player input while the other that does design animation/modeling and programming. They eventually meet in the middle to do technical design, more brainstorming and playtesting. Once this process is complete, they release the god. The entire cycle normally takes four to six weeks.
To complement the game, the studio also posts an extensive amount of online content. They run a Twitch channel 24 hours a day, where players can watch online personas play SMITE. They also have over 400 Youtube videos on their channel. While a lot of this content is traditional "how to play" and promotional content, there is a slew of other interesting productions on the channel.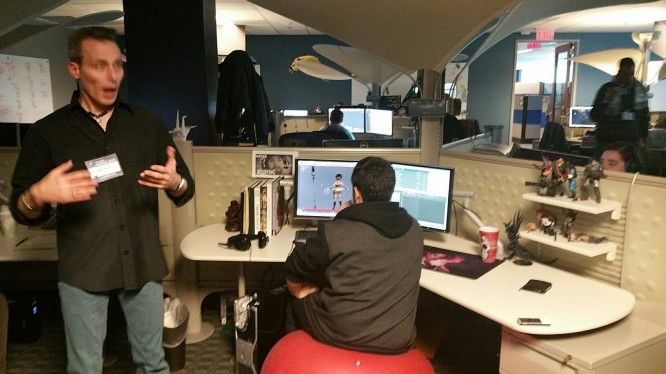 Hi-Rez is essentially one part developer, one part publisher and one part TV studio. They run their content in a traditional episodic TV manner. They currently have a wide variety of shows including videos with a comedy focus and others with more of an informational or community focus. The company creates everything in house and even has a full-fledged production studio on the premise.
COO Todd Harris stated the company puts an emphasis in what they call "Hygiene" content. How to play videos are important, but they only appeal to your existing audience. Hygiene content on the other hand is a different approach. The idea is to make content that isn't focused on your product. Instead he states it is incredibly important to create content that will appeal to a wide variety of viewers. A prominent example of such is their video series titled "how to break in to the games industry".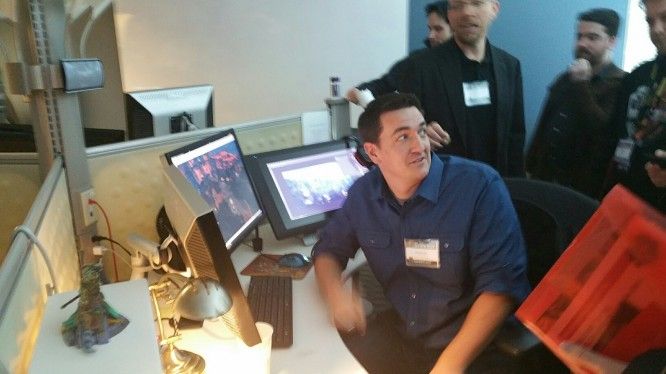 It hasn't been all roses for Hi-Rez Studios. They have certainly seen their fare share of hiccups along the way. There has been some controversy among the community about the maintenance of their previous titles. The player base that continues to play Global Agenda or Tribes feels that their games have fallen by the wayside. Hi-Rez even discontinued forum support for both titles. With that being said, I think the third time is a charm. With the enormous success of SMITE in the gaming and eSports community, I am sure we will see top notch support for a long time to come.
Hi-Rez has shown that it has a passion for making the highest quality products. Everything from game development to video content is top tier. Inside this little indie studio resides the talent of a AAA company. Sure, they have had some minor pitfalls along the way, but if they can learn from their mistakes Hi-Rez will be a major player in this industry for a long time to come.