The month of October is winding down and you've probably already taken your annual walk through the neighborhood in costume. You've tapped at your neighbor's houses, speaking to people you know and perhaps quite a few that you've never met before. You've filled your bag or plastic pumpkin full of tasty treats and you spent time meticulously counting each and every one of them.
The holiday hype is fading away slowly but surely, folding up and retreating into hibernation until next year. You knew it would come - it does every year - but this year, just like any other, you just weren't ready for it. Soon the Halloween decorations will come down, stored in crates until next year, and you can't wait.
Well, the rest of the year might be pretty dull but the Wizard 101 Halloween events are still going on, at least until November 2nd. So, why not linger in the holiday for just a little while longer? You know you want to, and Wizard City is happy to host players of all levels.
Wizard101 Halloween Events – Dworgyn and the Battle of Nosferabbit
Yep, it's that time of the year again and you know that means; Nosferabbit has once again crawled out of his rabbit hole and Dworgyn is recruiting wizards Level 13 and above to fight the madness. The local vegetable farmer, Tarley has reported that his crop in the Haunted Cave is getting out of hand, making it necessary to once again fight evil and save the plants. If you're a lower level player this is going to be a bit of a challenge, but don't worry, there's plenty of loot to go around. Nosferabbit drops some pretty nice items that will let you feel the Halloween spirit all year round:
Vampire Costume Wig

Hallowe'en Robe

Hallowe'en Shoes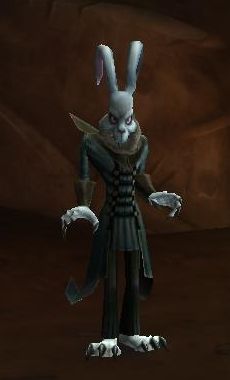 Wizard101 Halloween Events - Nosferabbit
He might not be Malistaire but he's a pretty satisfying boss fight and a great way to kill some time as the month of October draws to a close. Remember: if you complete the quest you're also going to get a Frankenbunny pet, so why are you reading this instead of finishing the quest?
Exploring the Costumes of Halloween
If you're up to spending a little bit of real money, the Crown Shop has some great Halloween items. We particularly had our eye on the Vampire and Mummy Gear which are actually bundled together. At face value these two have no inherent stats, but no worries; you can add the perfect powers to your costume and set out on some of the greatest adventures, secure in the knowledge that you've designed the best equipment with the coolest looks.
Visit with Spooky Bob
Halloween in the Spiral wouldn't be complete without spooky Bob, and he's really what makes Halloween what it is in the Spiral. He's got the best Halloween pets along with other cool treats that you aren't going to find any other time of year. Ready to visit him? Make sure you stop by the Shopping District and get your Halloween swag.
Jack Hallow – The Best of the Wizard101 Halloween Events
Let's say you're not up for extensive boss fights, high level quests, or even spending money in the crown store. Think you can't enjoy Halloween in the Spiral? You're absolutely wrong! Jack Hallow isn't going to be in the Sprial for too much longer but that shouldn't stop you from enjoying his quests while he's here.
He'll be sitting in the Ravenwood Commons, right by the pond, and he's going to send you on all kinds of spooky adventures throughout the Spiral. The best part? You don't have to spend a dime to participate. Free players can definitely take part in the adventure, though you won't be able to finish the storyline without being a full member. Still, there's a lot of Halloween fun to be had here, and many of the quests are nearby, making it easy to participate.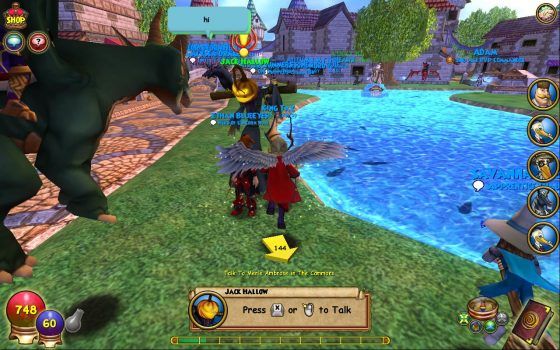 As you can see, there's a lot to do in the Spiral as Halloween and the month of October draws to a close. The doors to this particular exhibit are going to close on November 2nd, but you can be rest assured they'll come back next year better than ever. Don't forget to take a quick look at the mystery Halloween fish and make your holiday complete.
The Wizard101 Halloween events are great for players of all ages and levels. The holiday might be coming to an end, but the fun doesn't have to end quite yet!