There is no denying that Diablo was responsible for the explosion of hack and slash games. More than a couple of decades after its release, the action RPG genre is often referred to as "Diablo-Like" and for good reason. Blizzard's classic spawned countless clones and they are still coming fast and furious, with tons of loot, relentless mouse clicking and a fair share of wrist pain. Here are a few Diablo-Like games that you should keep an eye out for.
Pagan Online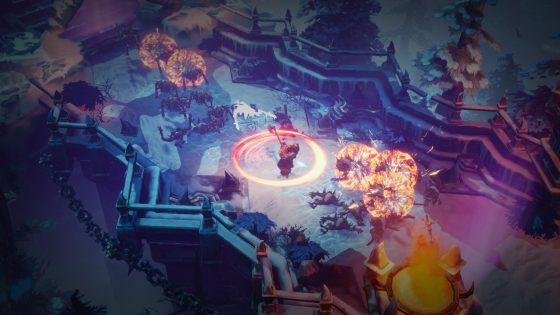 Pagan Online is the upcoming action RPG from Wargaming. Taking a break from its serious warfare simulators such as World of Tanks, World of Warships and World of Warplanes, the Belarusian company is helping Serbian-based developer Mad Head Games with this grim hack and slash RPG inspired by pre-Christian mythology.
I can tell you that Pagan Online's world is deliberately bleak and desolate, with its heavily stylized visuals. But it's the template that stands out, with its MMO-ish design and bite-sized gameplay pretenses. The Pantheon is the hub for your character (from the initial choice of eight unique heroes), with short missions of different types awaiting you. WASD control assures optimal ease of use and co-op play doubles the fun – or even quadruples it, if things go according to plan.
Despite looking and playing like your typical hack and slash game, Pagan Online's 50-hour campaign doesn't shy away from some interesting twists, such as the occasional mission with increasingly difficult enemy waves and intense, challenging combat that takes cues from MOBA games.
Pagan Online may draw inspiration from Diablo, but it proudly shows its very own, fierce distinctiveness.
Torchlight Frontiers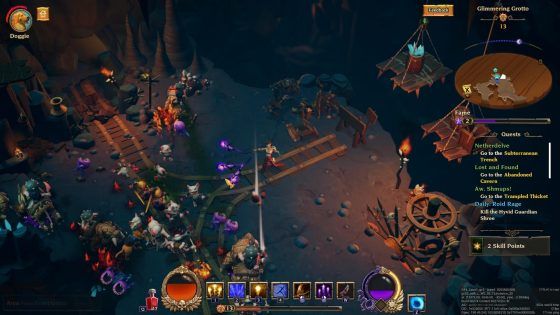 What's not to love about the Torchlight games? They take all the exciting combat and endless loot from the Diablo series and multiply it by a substantial dose of fun, resulting in two of the best hack and slash experiences ever made.
Following Torchlight 2 would never be an easy task. The next chapter needs to bring something special to live up to the hype, and indeed it does – an extra layer of MMO goodness. From public areas with up to eight players and dungeons supporting parties of four, Torchlight Frontiers ups the ante in co-op potential.
Torchlight Frontiers also tries to deviate from the tried-and-tested vertical progression systems found in most MMORPGs, offering a distinct take on levelling your character. Each frontier is levelled up independently, with specific gear best suited for each one. The alpha tests brought the first two frontiers, Goblin and Hyvid, along with randomized dungeons and a season-based contracts system that will reward players for completion of their daily and weekly missions.
Oh, and loot. Tons of loot. Torchlight Frontiers doesn't seem destined to disappoint in that regard, nor where it comes to classes. The Forged was different enough, but the Railmaster is an entirely original beast, probably the cleverest class ever designed for an MMO in the last decade.
Last Epoch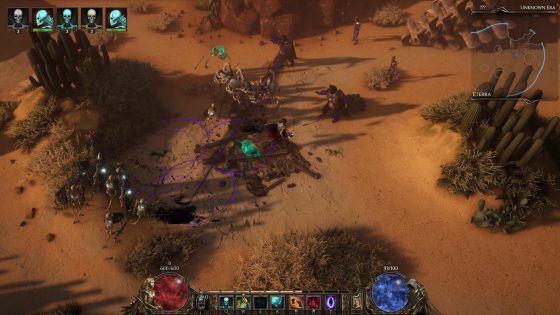 Last Epoch is another Kickstarter-funded action RPG that looks like a close relative to Path of Exile, but with a twist: time travel. Now there's a great excuse to take you to forbidden lands and forgotten places, or even to the end of time – no, seriously, this is a real map, set in space.
Last Epoch also comes with a skill tree of hell – or in fact, 110 skill trees. The promise of "endless replayability doesn't fall flat in light of this feature. With five base classes and 15 mastery classes there should be more than enough to experiment, regret, re-roll and finally specialize into your favorite character. Developer Eleventh Hour Games claims that this is an action RPG for newcomers and veterans alike, so you tell us if that is the case since the beta should be available right now, with the full release slated for April 2020.
Lost Ark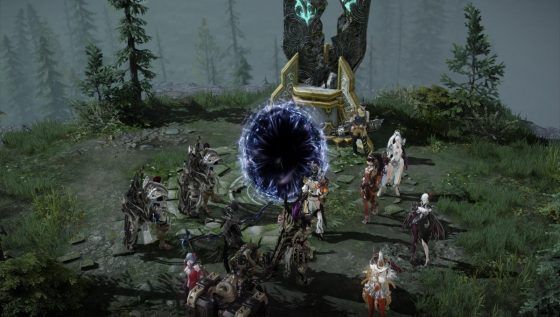 Each day that goes by without an official announcement of a Lost Ark North American and European release, an angel loses its wings. We know it's coming – Smilegate's CEO has confirmed this – but it hurts seeing our Korean friends enjoying one of the best MMORPGs of recent years and realizing that we can't get our grubby fingers on it before… what? Late 2019 or 2020?
Oh, come on, will you please hurry up with the English localization? China and Russia versions are well underway, and the original Korean release already got a host of new content including a new class, the Lance Master, so the anxiety is eating me up inside.
If you don't know what Lost Ark is, then you have no love whatsoever for Diablo, MMOs or both. This is everything that you ever wanted from a Diablo MMORPG, but with so much more than you asked for. Combat alone is a thing of beauty, with several classes so diverse and resourceful that you will shake your fist at the skies in the selection screen, rightly enraged by the unfair decision that must be made before you start your adventure. Do not fret, that is what additional character slots are made for. Then you have the incredible cinematic dungeons, with camera angles and boss battles designed to keep you on the edge of your seat right until the climax.
Lost Ark is the real deal; an MMORPG that delivers on its promises. This is, by definition, the kind of rare beast that is on the verge of extinction.
Warhammer: Chaosbane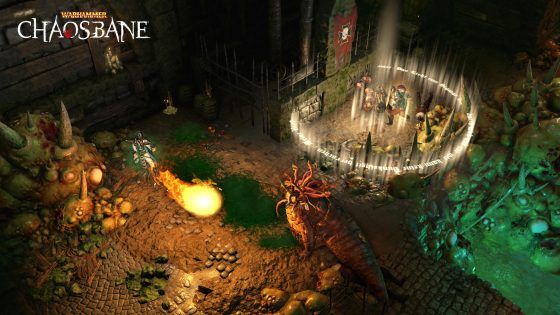 The Warhammer franchise has seen so many video game adaptations, dipped its feet in so many genres that it sounds odd to think that no one ever created one action RPG set in this fantasy world. I'm not talking about the Warhammer 40K universe, as that one was already graced with the middling Warhammer 40,000: Inquisitor – Martyr.
But that glaring mistake is about to be fixed with the release of Warhammer: Chaosbane. This is a Diablo-esque action RPG coming to PC and consoles in June 2019, with a focus on co-op play up to four players, but you can play alone as well. You should know what to expect right now: hordes of monstrosities for your righteous heroes to slash through.
Four character classes doesn't sound like a lot (Mage, Soldier, Waywatcher and Slayer) and the Dwarf's spin attack is already getting on my nerves, but other than that, Warhammer: Chaosbane is shaping up to be a good action RPG, with 10 difficulty levels and a boss rush mode to keep you busy.
Fractured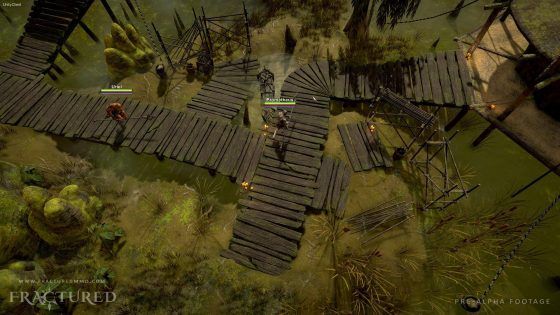 In theory, Fractured sounds more ambitious than most of the games in this top 10, but that comes at a price. Coming from Italian-based indie studio Dynamight Studios, this is an open world sandbox MMO complete with a full-fledged housing system.
Graphically, Fractured looks a bit rough around the edges, but nothing to be ashamed of. If the trade-off is a deep MMO with exciting action combat and interactive environments, then I can live with it. You can pick from three very different races (Humans, Beastmen and Demons), something that isn't just for show, having a practical effect in your game: from your society to the interaction with other players. You can choose to go to a PvE co-op only world, a brutal open PvP environment or a mix of the two. Crafting and trading is entirely player-driven, something that can either make or break a game.
Fractured has a lot of potential but we'll have to wait and see if this small indie studio is able to pull it off. Sheer ambition can only take you so far.
Darksburg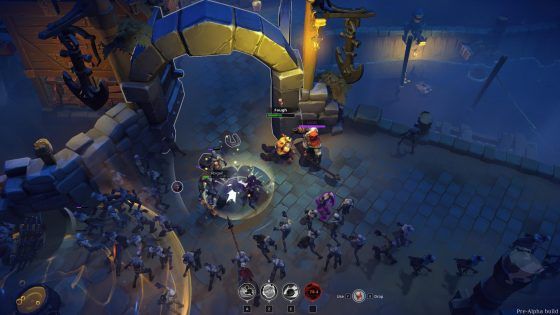 Darksburg isn't so much about loot or forging your path in a vast world. Instead, it places you and a few friends in a zombie-infested world where surviving the invading hordes is the objective. It's a more immediate and enjoyable hack and slash game without loot dropping every step of the way – items and rewards should be more manageable than your average action RPG and won't get in the way of the fast-paced game.
Darksburg offers 4-player co-op action where teamwork is crucial. Each character from the roster comes with unique skills and personality – Sister Abigail has a set of abilities that is completely different from Varag, the escaped werewolf. Your character will improve with items and unlockable talents and you'll need all the help that you can get to fight the bosses. There are different maps with varied objectives to keep gameplay fresh: find the cure, escort someone, escape from the area and more. In PvP mode you can choose to play the bad guys and face other players.
Coming from the makers of Evoland and Northgard, Darksburg looks like the kind of multiplayer experience that you can't go wrong with. It may not bring a ludicrous dose of loot like some of the other games from this list – that is not its purpose –, but I'll be a rotten zombie if it doesn't turn out to be tons of fun.
Lineage Eternal (Project TL)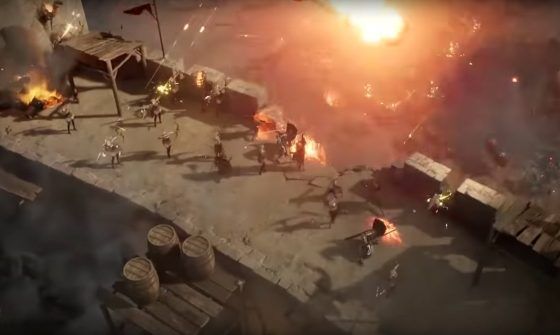 NCSoft is having a hard time finding the sweet spot for the next Lineage game. The follow-up to one of the most profitable MMORPG franchises ever is switching from third-person to a top-down isometric perspective like Diablo.
Lineage Eternal is in development for ages, having been first announced back in 2011. So that nearly makes for a decade of development hell that doesn't seem close to the end. In 2016, things seemed to be on the right track – you could pick a team of four characters out of the existing 13, there was a nice system for randomized dungeons and the closed beta was coming soon.
But that didn't happen. In 2017, a new game producer and a new team undertook some serious changes to the game, including the switch to Unreal Engine 4. The multi-character system is gone as well, replaced by a traditional class system. The name was scrapped, changing to the Project TL codename. That stands for The Lineage, apparently.
It's been a while since we last heard from Project TL, but you can rest assured: NCSoft has a lot at stake with this game and you can bet that it won't disappoint.
Wolcen: Lords of Mayhem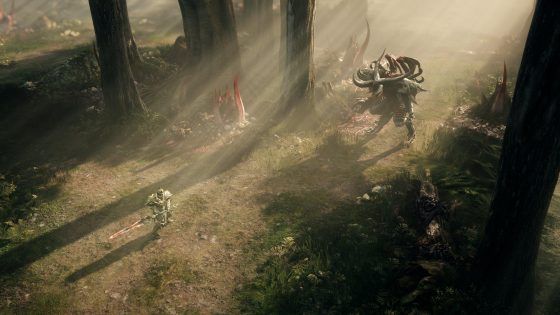 Wolcen: Lords of Mayhem is in a strange place. Once hailed as the next coming of the action RPG, it is slowly dragging its blood-drenched sword through Early Access for over two years. While it entered beta in March 2019, the community seems to be losing faith in the developers, with some updates to the game being badly received, such as the removal of the open world from the first act in favor of a bog-standard, linear area.
Notwithstanding, Wolcen still looks promising, albeit in an unashamed Diablo 3 wannabe kind of way. That doesn't make it a bad game, but it did subvert initial player expectations in a way that is affecting its reputation.
But what about the game itself, you ask? Wolcen is a fun action RPG with some great gloomy graphics and solid, weighted combat without any class restrictions. It feels like a mashup between Diablo and Path of Exile but currently with much less content and with streamlined skill trees, things that surely will be improved as development progresses.
And that is where Wolcen's worries lie – a slow-paced development that despite showing commitment to the game, is under fire from a community that is growing impatient as months go by. It's been four years since this game showed up as Umbra on Kickstarter, but let's never forget that good things come to those who wait – Path of Exile is a perfect example.
Legends of Aria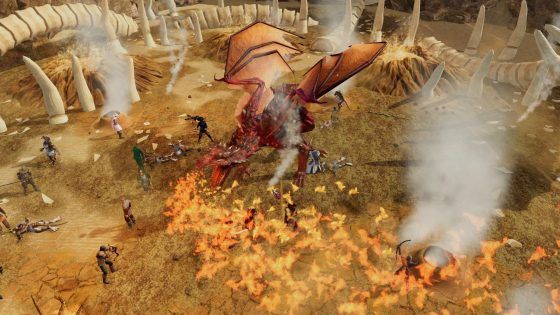 Legends of Aria tries to scratch that old-school MMORPG itch that very few games managed to do effectively. Citadel Studios mentions Ultima Online as its biggest inspiration, something that is not to taken lightly seeing that the creation of Origin Systems was released in 1997 and is still running today.
Much like Fractured and even Albion Online, Legends of Aria tries to go for a sandbox open world design, possibly the most difficult template to successfully pull off for an MMORPG. It is advertised as a game with no hand-holding and where community servers and modding are not only allowed, they are vigorously encouraged.
Legends of Aria is another one of those MMORPGs where the community will dictate how it will evolve. If the mechanics are sound and polished, it may stand a chance; on the other hand, a lackluster Early Access phase will surely lessen its chances of success.