The looming threat of Ragnarök is something that no Norse tribe can ever ignore. It's the kind of mythology that isn't frequently used in video games, but it serves as a flawless setup for relentless battles involving gods and colossal entities. Tribes of Midgard is based on that premise but mixes it with survival game trappings to create a familiar but compelling game.
Tribes of Midgard is being developed by indie studio Norsfell, based in Montreal, Canada. Its backlog is mostly comprised of mobile games, but the ambition driving its upcoming game is worthy of attention, thanks to a satisfying core gameplay that motivates you to advance your character. Nevertheless, the latest open beta is proof that there's a lot of work to be done, mostly balancing the different systems and providing additional content to keep the player invested.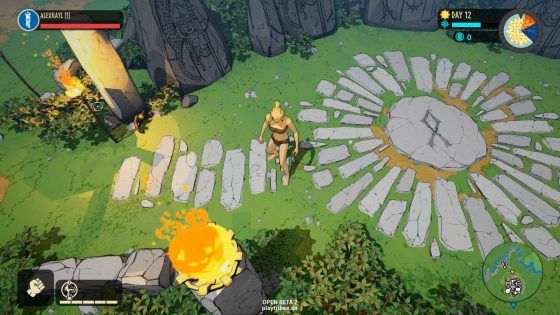 Bare-naked Vikings
Tribes of Midgard is a cooperative survival game where up to ten players join forces to defend their village. At the center of the village lies the Seed of Yggdrasil, the tribe's last hope against the invasion of the grim hordes from Helheim. Your goal is to survive the incoming onslaught for as many days as you can, something that is far from being an easy task, considering that increasingly difficult shadow creatures and colossi will invade your village every single night.
The procedurally generated maps of Tribes of Midgard are one of its triumphs, adding a refreshing stance to each new match. Each map is unabashedly huge, with fast travel shrines thankfully dispersed across the land. You will be running back and forth to your village to heal and craft superior gear, so using these shrines will save you precious minutes. Furthermore, protecting the Seed of Yggdrasil is crucial, so you won't want to be caught amiss when your help may end up making a difference.
The bulk of the game consists of exploring the wilderness and gathering all kinds of materials. Nearly naked and only with your bare fists to protect yourself from the dangers of the wild, you pick up branches, stones, sticks, and other materials to get you started. The village blacksmith is eager to help you, with a pickaxe and a wood axe inevitably being your first tools. These are used to mine stones and minerals, and to chop down every tree in your way. Soon you'll be handling a sword or a hammer, but you need more in the way of protection than your undies.
Being a survival game at heart, you'll often see your objects and weapons break. Having a replacement at the ready may save you from some uncomfortable situations, but it's a matter of balancing your future needs with your stock of materials.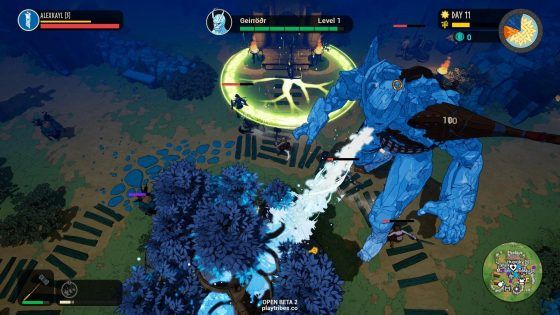 Edly the tailor is glad to help, offering several kinds of helmets, chest guards, gloves, pants, and shoes. It's not a daunting task to get yourself some basic gear; however, to wear those imposing and comfy helmets and chest guards requires some thorough exploration of the region and a sheer dose of luck. Rare minerals or jewels are necessary and hard to find, with some of the best materials dropping from the colossal and threatening Jotun.
Jotun is the giant and ambiguous entity that will occasionally show up to attack the Seed of Yggdrasil. It is a mighty challenge, requiring the concentrated efforts of every player to take it down, not to mention some well-placed and appropriate traps placed near your village. The giant will relentlessly crush any ill-prepared tribe, putting an end to your efforts in that world. Along with the objects that you gather, you also collect souls that you need to deliver to the Seed of Yggdrasil, acting as its health.
If your world is destroyed, that doesn't mean that your developments are going to waste. Progress is seamless between worlds, so you get to keep your experience level and blessings when you start your crusade in a new map. However, you lose all your equipment and gear, having to start from scratch in your quest to get some decent weapons and armor. If you're lucky, some better prepared player may offer you some of his loot, sparing you the initial struggle.
Blessings are the skills in this game, improving your character's build and abilities. Spread across four classes (Ranger, Brawler, Warden and Guardian), Blessings provide several buffs and improvements that aren't to be neglected. Increasing fog of war reveal, improving weapon durability, or increasing damage with a specific weapon, among other things, will come extremely handy when push comes to shove.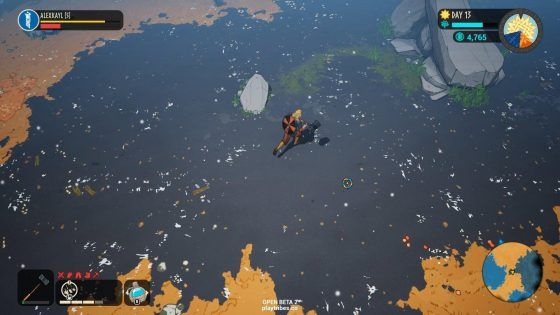 Fighting for My Tribe
When the night comes, the shadows roam in the direction of the Seed of Yggdrasil. Every player must make a run for the village, defending it with every ounce of their strength. Having a wealthy amount of materials may help you build a wall, delaying the entry of the mythological evil spirits. Dagny the Seeress will patiently wait for harmed Vikings to reach out, healing those who stand within her magical circle; however, whenever a player heals (alone or in a group), the others must wait a couple of minutes for the healer to be available once more.
While Tribes of Midgard already provides a satisfying gameplay loop, there is room for improvement in order to make it a full-fledged cooperative survival experience. The current lack of a player communication system undermines the tribe's efforts, but this is said to be in the works. Even a simple ping system would be immensely welcome for teamplay and strategizing.
The durability of weapons and items is a bit on the shaky side, forcing you to repeatedly craft the same gear instead of aiming for a better one. This is one aspect that requires finetuning, along with others such as the day and night cycle. Daytime is over too quickly, frustrating your plans to go out into the wilds, exploring at your own pace – suddenly, it's time to rush back to the village and if there is no fast travel shrine in sight, it will be a long and troubled way home.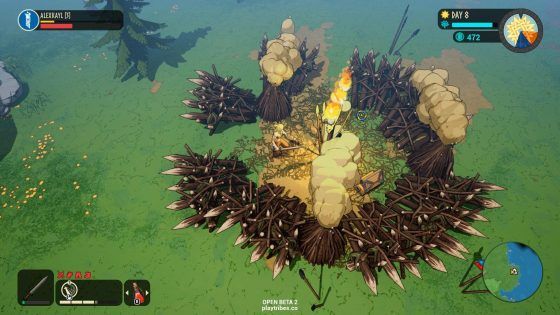 As far as weapon selection goes, it's somewhat slim and I couldn't fail to notice a disheartening lack of ranged weapons. Not having a single bow in sight is an odd omission, especially considering that some of the first foes that cross your path are bow-wielding barbarians. Combat feels satisfying, with the skills spicing up the fights, but hit detection is far from perfect.
While the sandbox gameplay set within randomized worlds is a plus, Tribes of Midgard could benefit from the addition of missions or side quests to break out of its endless loop. Escorting an NPC to a certain area or finding a specific item for someone would help with the flow of the game, adding some extra layers to its free-form gameplay.
The art is good, with a cel-shaded style that isn't tremendously detailed, but the whole picture makes for a game that is easy on the eyes. When the snow is gently falling and you see the clouds reflecting in the pristine water, everything seems to come together. The giants are quite impressive to watch, as they slowly move towards their goal, your ultimate destruction.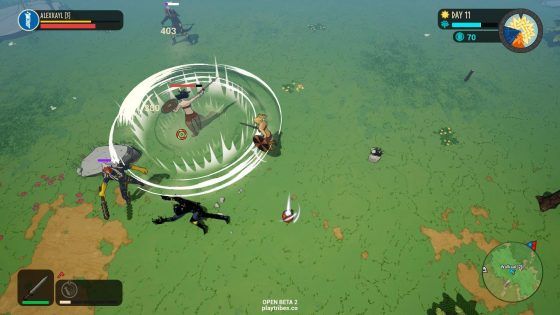 The Tribes of Midgard open beta suffered from a few disconnect issues and another bug that cut the matches short. The day never ended, and without the usual warning to swiftly return to the village, surprise struck as the Seed of Yggdrasil was left hopeless, destroyed by a swarm of grim shadows.
This is nothing that can't be fixed before the official launch, although there is no way to tell if the developers are going to add side quests to Tribes of Midgard to flesh out its core offering. While satisfying, it's a game that feels extremely niche as it stands right now, and that may end up being its most gigantic challenge yet.