Let's face it, the best thing about Christmas is the gaming gifts. In light of that, we've selected the premium gaming gear that any serious gamer should be delighted to receive in their stocking this festive season.
Featuring hardware for console and PC gamers, all items on the list have been fully reviewed in-house. And what's more, MMOGames have not been paid to promote any items on this list and do not receive any affiliate benefits or payment for promoting them. That way, you know that you can trust our reviews.
1) JBL QuantumONE Gaming Headset (Reviewed)
With the launch of the Discord-certified JBL QuantumONE, the soundsmiths at JBL have created the pinnacle of personal gaming audio. JBL's premium gaming headset features full active noise cancelling and high-resolution 3D audio.
While the packaging may not be the most environmentally friendly option around, the slick design and graphics are enough to give anyone unboxing it that kid-at-Christmas feeling. Alongside the headset comes a standard audio cable, type-c to type-a cable featuring a chat balance dial, a calibration microphone, and a detachable boom microphone.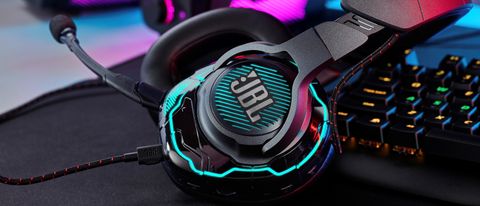 Christmas Gifts for Gamers - Image Credit: JBL
Thanks to the detachability of the microphone, the stylish looking headset can be used for non-gaming purposes when out and about. Its neon lights which glide between different colour combinations and patterns can be disabled for a less attention-grabbing look and could easily pass as a normal albeit stylish pair of headphones.
When first plugged in, JBL's companion software QuantumENGINE automatically downloads and provides users with unrivalled audio and visual customization functionality, including but not limited to multiple RGB lighting options and audio equalizers for total user control. These staggering levels of customization include pre-sets for different game genres so users can dive straight into their game of choice knowing that their audio will be optimized.
The star of the show is its QuantumSPHERE 360 audio with super accurate head-tracking capabilities for absolute in-game immersion and a realistic 3D spatial soundscape. Why does this all matter for gamers? As the headset range makes clear with their slogan, "Sound is Survival".
RRP: £212 / €235 / $288
Available at JBL
2) The Snakebyte Esports Starter Kit (Reviewed)
Amateur gamers trying to level-up their prowess on a budget can't go wrong with this three-part bundle from Snakebyte. The bundle contains:
Snakebyte KEY:BOARD PRO – Backlit with 7 colours and multiple lighting effects, the keyboard is ideal for gaming in the dark and generally looking badass. Its double-injection keycaps are plastic and non-mechanical. However, the keys are built into an aluminium plate and designed to survive hardcore gaming sessions with a keystroke lifecycle of 10,000,000. It provides a quality pro-gaming feel without a premium price tag. The keyboard also features 26-key anti-ghosting technology and deep keys for a hefty, powerful feel that won't go underappreciated by hardcore gamers.
Snakebyte GAME:MOUSE PRO – Matching the 7-colour functionality of the keyboard, Snakebyte's mouse looks and feels great. With a professional optical sensor, customizable settings, a reasonably impressive 4000 DPI, 20G acceleration, and a low-friction base, there can't be any excuses for missing a shot. It a large but extremely comfortable mouse, from its tire-track style mouse-wheel to the smooth, wide thumb-rest. After testing it on Civilization 6 and WoW Shadowlands, it became apparent that no corners had been cut and gaming comfort had always been prioritised.
[caption id="attachment_375614" align="aligncenter" width="560"]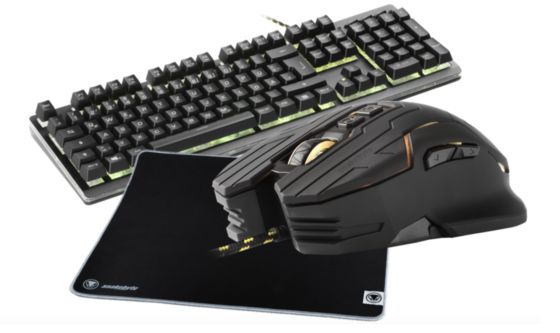 Christmas Gifts for Gamers - Image Credit: Snakebyte[/caption]
Snakebyte MOUSE:PAD PRO Esports Edition – Sizing up at a huge 48cm by 40 cm, the mouse-mat might look more like a yoga mat to casual gamers, but for serious gamers, its size is a necessity. With an easy glide top-surface and a no slip rubber base, the Snakebyte MOUSE:PAD PRO is a great companion to the GAME:MOUSE PRO.
While there are more expensive, fancier models available on each of those items, it will take a truly hardcore gamer to feel the difference. The bundle looks slick as a set; Snakebyte's classic black and yellow look is default and matches the braided cables, but both mouse and keyboard feature seven colour options that can be synced for a high-tech and futuristic feel. It will have you feeling like a pro even if you're not playing in PUBG Global Invitational quite yet.
The bundle, when available, can be purchased for an RRP of £74.99 (€83 / $102)
Items can be purchased individually from Snakebyte
3) The Nacon Revolution Unlimited Pro PS4 Controller (Call of Duty Edition) (Reviewed)
GamesRadar called this controller "The Perfect Choice as the Pro PS4 Controller" and it's easy to see why. The German-engineered Revolution Unlimited Pro is, quite frankly, a beast. And we mean that in the best sense of the word. Having trialled the controller on Spellbreak, Fall Guys, and Bless Unleashed, we can safely say that this is the finest console controller that we've ever played with.
As seen in the picture below, the controller comes in a combat-camo hardcover carry case alongside all manner of other goodies, including: a USB to activate wireless mode, stickers, replacement joysticks and shafts in different sizes, as well as a selection of weights that can be easily swapped into the controller until it reaches that "just-right" Goldilocks sensation.
[caption id="" align="aligncenter" width="616"]
Christmas Gifts for Gamers - Image Credit: EPOS[/caption]
Yet these are only the beginnig of the customization options offered by Nacon, the companion software provides extensive sensitivity and personalization options. And did we mention the plethora of additional metal buttons on the undersides of the controller, its Bluetooth readiness, or the customizable light-settings on the right analogue stick?
If you want to make a PlayStation gamer very happy this Christmas, look no further. The controller also comes in a cheaper, standard, black version in case Call of Duty isn't your thing.
And to congratulate you for getting this far through the article, we want to reward you with the knowledge of a special upcoming Christmas Day freebie. We are giving away one of these controllers absolutely free to one of our readers. Stay tuned.
RRP: £162 (€179.90 / $220)
Available at Nacon Gaming
4) The EPOS SENNHEISER GSP602 Audio Bundle (Reviewed)
As the second headset to be featured on this Ultimate Christmas Gaming Giftlist, it would be unfair not to compare them. While the GSP602's packaging, look, and thrills may not be quite at the level of the JBLQuantumONE, it delivers excellence at a cheaper price. The closed-acoustic sound quality of the GSP602, engineered for exceptional gaming audio clarity, is breath-taking.
[caption id="" align="aligncenter" width="623"]
Christmas Gifts for Gamers - Image Credit: EPOS[/caption]
Once the neat, professional packaging was unboxed, we played through multiple games on PC and PS4 using the headset, and we were not disappointed. It has world-class, balanced sound, a durable metal design, extremely comfortable ergonomic earpads, and an intuitive audio adjustment system.
For even greater audio control, we recommend going for the full EPOS Gaming Suite. We reviewed the navy and mustard GSP602 headset model with the matching GSX300 external USB soundcard (which provides extensive customization with 7.1 surround sound). However, a slick white option (the 601) is also available for a modern, lighter look alongside the Snow edition of the external amp.
[caption id="" align="aligncenter" width="625"]
Christmas Gifts for Gamers - Image Credit: EPOS[/caption]
The one major downfall of the headset is that the microphone (which features advanced noise-cancelling broadcast quality) is screwed in, restricting the headset's functionality somewhat. Which is a shame, because the headset looks and feels stylish and could be more multifunctional for those who cannot justify purchasing a dedicated gaming headset at this price range. Still, for gamers looking for the next level of gaming audio quality, the GSP602 delivers at every turn.
Headset:
RRP £199 (€221 / $270.50)
Available at EPOS Audio
External Soundcard:
RRP £69.90 (€102 / $95.15)
Available at EPOS Audio
5) Crucial Ballistix MAX RGB Gaming Memory RAM (Reviewed)
Whether you are into Overcooked or Overwatch, sometimes we all need to overclock. Crucial Ballistix RAM is multi-award winning and multi-record breaking thanks to its high-performance overclocking potential. The Ballistix MAX range takes this to another level entirely.
[caption id="" align="aligncenter" width="620"]

Christmas Gifts for Gamers - Image Credit: Crucial[/caption]
Designed for extreme overclocking, the Ballistix MAX utilizes a black extruded aluminium heat-spreader for maximum dissipation while on-DIMM sensors provides real-time temperature monitoring. Precision engineered for speed and especially optimized for Intel and AMD systems, it is no wonder that record-breaking gamers and the world's best esports players use it.
Its RGB models feature 16 customizable RGB LEDS in 8 zones, and a lightbar that can be further customized through 3D printing with the provided 3D files.
https://www.youtube.com/watch?v=9EWJn8qeLcQ&feature=emb\_title&ab\_channel=Crucial%3AComputerMemory%2CStorage%2CandTechAdvice
The 16GB model (2 x 8GB) we reviewed was excellently packaged. It came boxed safely yet stylishly with a magnetic hardcover revealing a transparent product window. Install was simple with an instant boot-up, seamless performance, and zero issues. It comes with a lifetime warranty.
It is a fab gift for passionate gamers who want to enjoy their gaming experience with the highest specs around. While superior iterations are available at a higher price tag, we reviewed the DDR4-4000.
RRP: £185.99 (€206.50 / $253)
Available at Crucial.
6) Western Digital WD_BLACK P50 1TB SSD Portable Game Drive (Reviewed)
While the importance of RAM can never be overstated for PC gamers, they would also be nowhere without SSD. And given the size of modern AAA titles, they need a lot of it.
The WD_BLACK P50 is at the peak of premium portable gaming storage. It comes in various sizes, the one we chose to review was the 1 terabyte model which should certainly cover our gaming needs for 2021. That said, they offer models of up to 2 TB for those whose gaming libraries have reached truly impressive heights.
[caption id="" align="aligncenter" width="608"]
Christmas Gifts for Gamers - Image Credit: Western Digital[/caption]
Using the included USB C to C and C to A cables, the drive can be easily plugged into PC, PlayStation, or Xbox. Furthermore, the SuperSpeed USB compatibility futureproofs the drive from upcoming technological advances. Gamers will be happy to see that it can handle read-speeds of up to 2000 MB/s thereby minimizing wait-time and maximizing playtime. For those that aren't particularly tech savvy or who are looking to buy the drive as a gift, take our word for it, that is plenty.
The drive's portability expands beyond functioning as back-up memory and a performance booster. For laptop gamers for example, who have sacrificed in-built memory for transportability, the drive is the perfect lightweight solution to bring games on the go.
Moreover, gamers need not be concerned about the drive being damaged. Not only is Western Digital a highly respected brand, but the drive itself feels durable enough to survive a small typhoon. The font, lettering and colour-choice gives it an edgy, military albeit not gaudy look that most gamers will appreciate.
RRP £209.99 (€233 / $285)
Superior and inferior sizes available at different prices at Western Digital
MMOGames.com is committed to bringing you all the freshest, funniest, and most insightful MMO news. If you enjoyed this content, why not share it with your community? And make sure that you never miss our updates and exclusive giveaways by following and favouriting us on Instagram, Twitter, and Facebook.