So you've gotten your hands on a few crowns and you've decided that you're going to buy your very own magical house. Maybe you spent some time filling out surveys, maybe you got a crown card for your birthday, or maybe you saved up your allowance and are ready to spend your hard-earned money on your first Wizard101 house. Well, why wouldn't you be looking forward to something that awesome? What else can we say, but what a great investment!
Housing is available for wizards of all levels, the first being the Avalon castle plot. It's a small space, but for the first time homebuyer it's absolutely massive; there's just so much to it! So how do you do it? How do you get your very first house in the Spiral? Well, it all starts with going to the crown store and looking for your first Wizard101 house.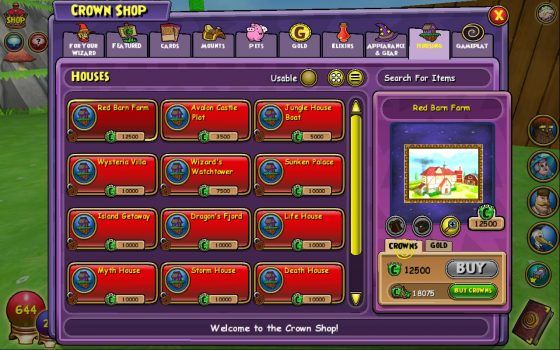 Finding your Very First Wizard101 House
Well, it's definitely going to be easier than you think to buy your very first Wizard101 house in game using your crowns. In the upper left-hand corner of the screen, open the crown store and mouse over 'Housing'. Once you do that you'll see a ton of houses available to you, but Kingsisle has taken it a step further by showing you ideal options specifically for YOUR wizard. You can choose any of the available homes, but keep in mind that some of the more prestigious are designed specifically for wizards who are level 15 and above – that does put a damper on things but it gives you something to look forward to as you level up!
For my first venture into home buying I purchased the Avalon castle plot which is a nice out-of-the-way floating island in the Spiral. Not to mention very green. Once you buy your home you'll be ready to visit it, but how do you get there?
Getting Home – No Walking Required
Now that you've purchased your Wizard101 house you're probably wondering how to get there. In fact, if you've done it before getting to this guide, there's a good chance you've spent some time walking around Wizard City looking for the entrance. I can completely understand that, especially if you're coming over from Pirate101 as the house has a physical presence in the world. In Wizard101 however, all you really need to do is open your map and click the 'Go Home' button. You'll be immediately transported to your new home, and depending on your connection speed you might experience some anomalies.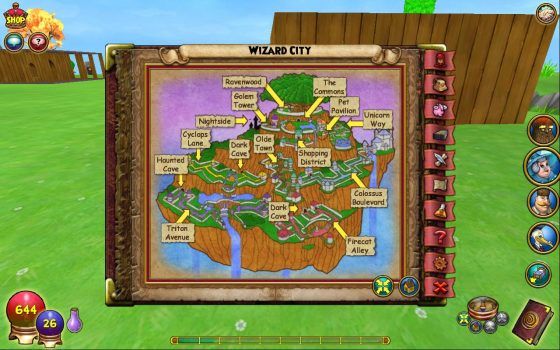 Some Anomalies in your Wizard101 House
I found that when buying my very first Wizard101 house the loading time was a bit slow, though your experience will vary depending on your connection speed. As a result, the landscape loaded but the available houses on the land didn't load right away. Instead, they were actually rendered as a few dozen wooden crates, which I actually thought was pretty clever. Eventually the boxes 'unpacked' and I was left with all the wonder of my private island.
What's On your Private Island?
There are actually a few points of interest on your private island, the first being the two houses that you get at the outset. Well, one of them is a house, the other is more of a shed. Both are simple wooden structures, but until you get the crowns to buy more building blocks, they will absolutely work for you. Once you get tired of the same old décor, however, it might be time to start adding some furniture, which we'll get to in a moment.
As you explore your private island you'll find a few really cool things. At the front, you have the door which leads the world gate, and selecting it will allow you to choose which major area in the Spiral you wish to go to. Wizard City, for example, will be in the first slot, and it's an outstanding way to get around.
If you turn directly to your left, past the World Portal, you'll find a cave running deep inside the mountain on your little island. For those who don't like the domesticated life so much, cave living is as good as it ever was.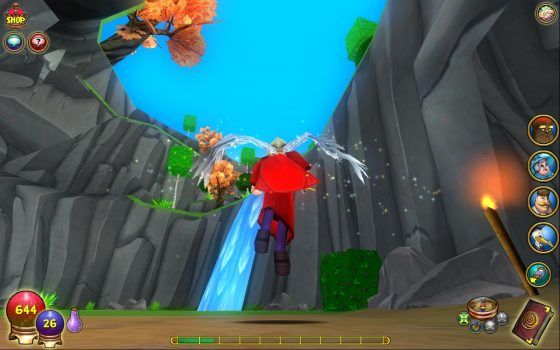 Once you enter the cave and turn to the left you're going to find a chest that allows you to easily access your bank and quickly store any extra items that you might want to save for later.
If you dare to venture even further into the cave you'll find a few more open areas, including a waterfall that you can't quite reach the top of. There are several tunnels leading to the sprawling open levels of the cave and you'll have a pretty fun time exploring it, not to mention filling it with the goodies that you found on the Crown store. So far, that cave is probably the best part of your Wizard101 house, especially if you want to live the hermit life.
Building it Up and Placing your Objects
I have to say, the Wizard101 house options are some of the best I've seen in any MMO that offers player housing, though to be perfectly honest that's not all that many. Still, there are plenty of things to do here.
When you're in your house, all you need to do is move your mouse cursor to the bottom right of the screen and click on the 'Place Object' button. You'll be granted a menu at the bottom of the screen which contains all of your placeable items. If you've bought building blocks, for example, you're going to see them here.
Being somewhat obsessed with musical instruments in MMORPG's I went ahead and purchased a bass guitar which I was able to place on the ground, and once there it became useable. I do have to say I'm a little disappointed that I can't simply equip it to my character and go have a blast in the Spiral but hey, you take what you can get, right?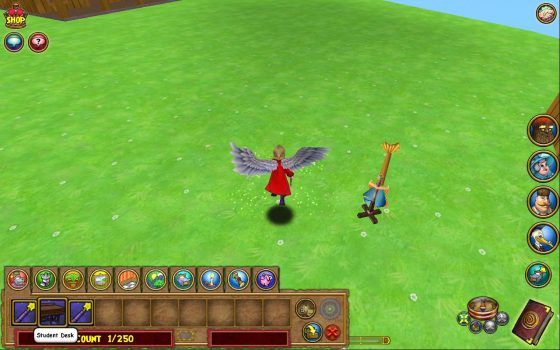 Along with placing my guitar I noticed that you can also place your unused wands which is a very useful feature. For example if you have a wand that you don't use anymore, you can hang it on the wall of your house.
Another point of interest is going to be mount placement. You know all of those mounts that you don't use anymore? Well okay you probably don't, especially if you're buying the Avalon Castle plot, but if you ever get to the point where they're building up significantly, you can place them in your house to live out their golden years grazing or simply standing around looking pretty. Just remember: your house can only support 250 objects, unless you want to store them in the attic.
If You Build it…
Once you build your Wizard101 house you can do all kinds of things with it! You can throw a party, you can show off your architectural skills, or you can simply sit back and relax. Honestly, the house really is one of the best ways to showcase the amazing items you've found in the game, and it's a lot of fun to explore once you've gotten it all set up.
You can also set up games for your visitors if you want to spend a little more money in the crown store, and when it comes right down to it, you'll find that the house is a great getaway from the rigors of saving the Spiral.
The Spiral is a great place and there's nothing quite like having your own little piece of it. Your very own private island to explore, to develop, to make your own. Once you save up a few more crowns and get a few more levels under your belt, you'll be able to buy some of the bigger houses with the more interesting prefabs. The farmhouse actually looks pretty good to me!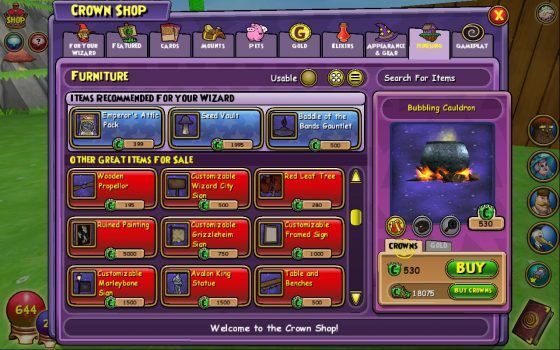 When you buy more houses they will be added to your housing tab and you'll be able to select the one you wish to visit. Yes, you can have multiple houses going at once; you can be a real estate mogul if you want, but please, don't use it as an excuse to run for president of the Spiral.
Breaking into the market and setting up your very first Wizard101 house is fun, it's easy, and it's something that every aspiring wizard should try out whether they're new to the Spiral and just starting their journey, or a seasoned veteran. Sure, you've probably got other things that you need to focus on, like saving Wizard City, but you know what? Everyone needs to relax once in a while and most importantly, they need a place to do it.
Make sure that you're not just hanging out in the commons area every single time you want to get away from the action; buy a house, bring your friends, and make the most out of your downtime between world-saving quests.