A treasure trove of new features has materialised in the Wizard 101 Spring update. We're talking events, bosses, rewards, and improvements to combat and socialisation. It's one heck of an overhaul, so don your finest robes and get ready to dive in.
Wizard 101 is a big fan of regular updates; it's now four times larger than it was back in 2008. Its proficiency at keeping things fresh is probably why it has lasted so long. Either that or magic, anyway. But this latest spring update has ushered in a list of new features long enough to fill the thickest of tomes.
"Wizard101 has always been about bringing players of all ages together to explore the worlds of the Spiral. We're now enhancing the journey with exciting new boss fights that have awesome rewards and new ways for players to meet up." said Leah Ruben, KingsIsle Game Director.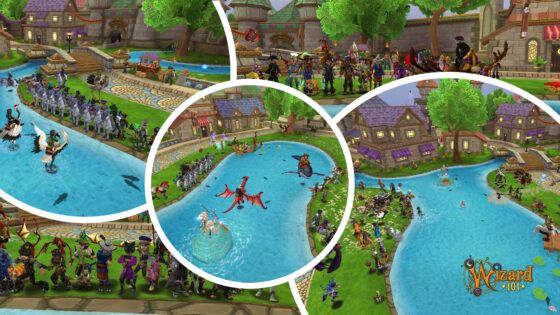 There's a lot to cover, so here's the abridged version:
Updates
Speedier AOE Spells - shorter run times to help make battles more dynamic

New Skeleton Key Bosses - including King Borr of Grizzleheim and the Stay-Puffed Marshfellow in Karamelle

New Beastmoon Events - including Monster Mayhem & Hunts

New Beastforms - the Myth Ninja Pig (and minion) damage-dealer and Life Minotaur healer

New Event Rewards - shiny new gear, Tiered Wolf Warrior Weapons, new Spellments and Spellment recipes

Combat Balance Improvements - new damage and resist stat limits, continued spell audits, and changes to the Shadow Gauge and Crit/Crit Block system

PvP Matchmaking Updates - a new Opt Out prompt will be available for Level mismatches

Social Updates - a new Friendly Player feature will help you find players to quest with. Plus, teaming up with other players is quicker than ever.

Housing Concept Art Books - view Wizard 101 concept art from the comfort of your wizard home

System Requirements Update - after supporting systems as old as Windows XP, Wizard 101 is taking a leap into 64-bit programming
And if you think that's everything, you're sorely mistaken. For a full in-depth look at the mountain of new features in the Wizard 101 Spring update, make sure to take a look at the announcement page.
MMOGames.com is committed to bringing you all the freshest, funniest, and most insightful MMO news. If you enjoyed this content, why not share it with your community? And make sure that you never miss our updates and exclusive giveaways by following and favouriting us on Instagram, Twitter, and Facebook.