After 12 years on the scene, beloved MMORPG Wizard 101 is undergoing a pretty big makeover. With a wave of their wand, KingsIsle have brought the longstanding title into the modern era with enhanced gameplay and brand new content. And when you arm wizards with modern technology, who knows what you could achieve.
The Wizard 101 Summer Update is mainly designed to help new players, with a revamped Wizard City offering streamlined quests.
"We've taken the lessons we've learned over the last decade of content creation and applied them to the very beginning of a player's adventure. The stories are engaging and snappy, it's the Wizard101 experience that dedicated players know and love from the later worlds the moment you create your character." Said Game Director, Leah Ruben.
Extra quests have also been added to help tie the many threads of the Wizard 101 storyline together. Meaning it's now even more tempting to start from scratch, just to soak in the rich lore in a new light.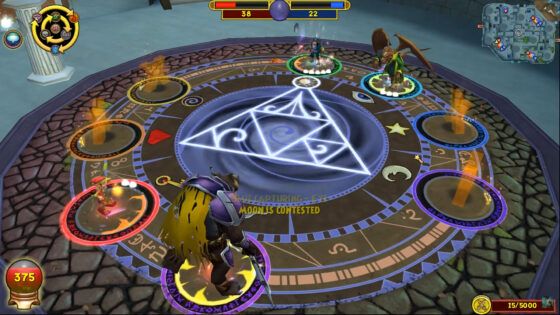 "Our writing team has wanted to refine many of the beginning quests for a long time. We've made the Wizard City questline a faster and smoother experience that includes lots of hidden easter eggs and punny phrases along the way." Said Creative Design Lead, Sam Johnson.
There's been a slew of social improvements added to further enhance the friendly atmosphere of an already neighbourly MMO. A brand new feature called Adventure Parties allows groups to create appointments. Additionally, the new Friendly Flag feature allows players to identify themselves as wanting to group up or chat, whilst the new Team Up Volunteers system allows players to designate themselves as available helpers.
Well-known events have also received an upgrade. Beastmoon Monster Mayhem now boasts a new map and monsters, while earning rewards through Beastmoon Hunt speeds up the ability to earn spell upgrades through the Spellwrighting system. A whole host of events are set to keep wizards busy, with a Scroll of Fortune for each season bestowing some lucrative rewards. These include a pet jewel, player gear, rideable mount and the season's collectible painting.
A complete overview of the overhaul can be perused over on the official website. So check out what the Wizard 101 Summer Update has in store from today.
MMOGames.com is committed to bringing you all the freshest, funniest, and most insightful MMO news. If you enjoyed this content, why not share it with your community? And make sure that you never miss our updates and exclusive giveaways by following and favouriting us on Instagram, Twitter, and Facebook.