From 12th April, World of Tanks is taking a trip to space. Far from the out-of-this-world cosmic foray of its sister title, World of Warships, however, the armoured warfare MMO is instead celebrating the 60th anniversary of the first-ever manned spaceflight. Unfortunately, this does not mean that players will be piloting laser-firing space-tanks.
60 years ago on Monday, the U.S.S.R.'s Yuri Gagarin took to orbit in his capsule Vostok 1. To commemorate this historic moment, WoT is holding an event entitled To the Stars. By completing daily missions players can earn Star Points - a special form of currency that can be exchanged for rewards including unique 2D styles based on Vostok 1 and Gagarin himself. Plus, until 19th April, Gagarin will make an appearance as an in-game commander, dressed in his iconic orange flight suit and representing the U.S.S.R. nation.
But, in true U.S.S.R. fashion, it's not all about the individual. From now until 12th April, tankers can pool their efforts together by completing daily stages and earning a collective 'piggy bank' of Star Points. Once milestones have been met, more of Gagarin's story unfolds. Plus, players can enjoy increased XP multipliers between 12th - 19th April.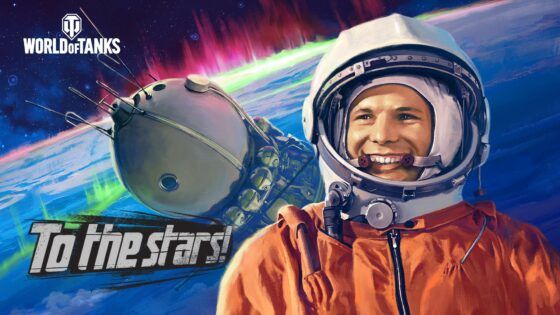 A special website to commemorate the historic moment has also been created for players to enjoy. To bring the event, the WoT team have worked closely with Galina Gagarina - Yuri Gagarin's very own daughter - to ensure that her father's story was told as accurately as possible.
"Yuri Gagarin proved that humans can live and operate in space. His flight encouraged and gave hope to all those who dreamed of this! It kickstarted the deep understanding of humanity's role in preserving and developing our cosmic home—Earth," says the daughter of the legendary cosmonaut. "I'm happy to know that, through the millions-strong audience of World of Tanks, the memory of mankind's first foray into space will be preserved for years to come!"
Max Chuvalov, Publishing Director for World of Tanks, adds: "We would like to thank Galina Gagarina for all the help and advice she gave throughout the project. We are happy to share her father's story with all our players and hopefully by doing so, more people will become inspired!"
So strap into World of Tanks and get ready to salute to the first man in space in three...two...one...
MMOGames.com is committed to bringing you all the freshest, funniest, and most insightful MMO news. If you enjoyed this content, why not share it with your community? And make sure that you never miss our updates and exclusive giveaways by following and favouriting us on Instagram, Twitter, and Facebook.