With the second open beta weekend for World of Tanks on the PlayStation having ended at January 10th, it's time for the true tank commanders among us to rise once again in the next phase of the game. World of Tanks will officially release on January 19th, so you better get ready!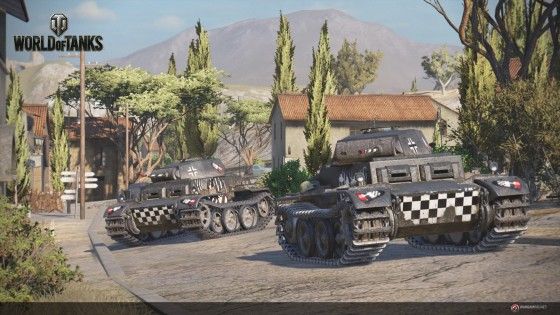 Such a great occasion requires a few final specials, and they come in the form of a PlayStation Plus exclusive! New and existing players subscribed to PlayStation Plus will get a very unique Premium vehicle: the exclusive German Pz.Kpfw. II Ausf. J-PS! The tank comes adorned with a one-of-a-kind darkened camouflage, which features a "pin-up girl" livery. The tank reaps all the benefits of being a Premium vehicle and comes with its own Garage Slot and also includes an extra three days of Premium.
This free bonus can be found in the PlayStation Plus section of the PlayStation Store. The offer will be available in the PlayStation Store beginning January 19 and will be credited to your account upon the next login to your Garage. PlayStation Plus members will also have access to special offers and sales periodically. Be sure to login to your Garage before the month's end to receive the U.S. T1E6-PS, as the tank will no longer be available after January 31st.
The 19th is coming closer by the day, so get ready for battle commander!
Our Thoughts
We couldn't be happier that PlayStation 4 users will be able to officially enjoy the World of Tanks joy. Even if you're not a PlayStation Plus member, you'll still get to play the game without any time restrictions for the first time, and since the beta progress hasn't been wiped, you can start right where you left off.
Source: World of Tanks Official Website