Merchandising and video games are very obviously nothing new - just ask Overwatch. Now Wargaming has been further bitten by the merch bug with the reveal of new World of Tanks merchandise, including branded peripherals and other truly unique goodies for players in the European region.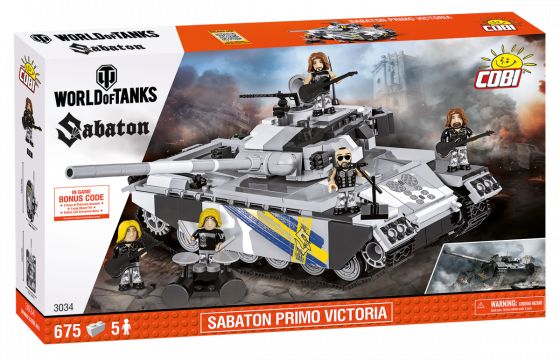 World of Tanks has joined forces with Konix to release a number of branded peripherals, including two keyboards, four mice, two mouspads and two headsets. Each peripheral also comes packed with codes for in-game goodies like one of three tanks, a Garage slot and premium membership time.
As for the item pictured above, that's the Sabaton Primo Victoria, a new tank model released by Colbi fashioned after the Swedish power metal band's song of the same name. The set includes the tank, emblem and inscription stickers, along with in-game bonus and invite codes for World of Tanks.
Finally, the game itself is getting a physical collector's edition. This new release packs in a 1/32 scale replica of the Tiger 131 tank, a gaming mouse, artbook, blueprints, lithographs, and a keychain. The edition also has a code for the same Tiger 131 to be used in-game.
The Sabaton tank can be found at the Wargaming Store and the Colbi website now, the peripherals will be available across Europe starting October 22nd, and the collector's edition will be limited to only 5,130 releases on October 19th exclusively to the Wargaming storefront.
Our Thoughts
Awe, look at the adorable little power metal rockers! In all seriousness, though, we're interested in knowing what sort of market there will be fore WoT-branded peripherals and whether the Konix brand is reliable. We also suspect the collector's editions will sell like hotcakes.
Source: press release