The oceans of Earth are pretty vast, but fighting in them can feel pretty same-y. Just a bunch of boring ol' water. Now, fighting in the ocean of stars that makes up outer space? That's a bit more interesting, which is pretty much the line of thinking for the upcoming limited-time World of Warships Space Mode.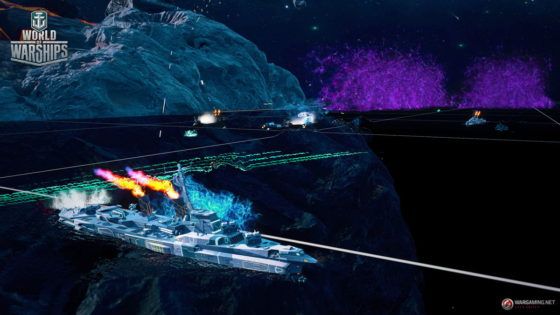 Starting Thursday, March 29th and running until Wednesday, April 25th, the ship-to-ship combat of World of Warships will be taking to deep space in an all-new mode featuring brand new, sci-fi reimaginings of modern-day battleships. Players will get to command nine unique Tier X ships like the drone deploying Hellcarrier, the turbolaser equipped Norma, and the stealthy rocket firing FlyFire to name a few.
"We always strive to keep the game focused on history, but at the same time we are very open to bringing interesting collaborations and events into the game to entertain our players," says executive producer Artur Plociennik. "We have to set the bar high for ourselves and then check with the community whether it's high enough—which is why we're letting them give us their feedback for this new mode."
The new Space Mode will be available to players who are level 12 and have access to a Tier VI or higher ship. More information about the mode can be found on this web page and a developer diary talking about the mode can be seen below.
## Our Thoughts
Hmm...we wonder what a game like Dreadnought thinks about all of this..? But honestly, the fact that the World of Warships devs seem to be open to having a little fun with their Very Serious War Game is great to see. Let's hope that World of Warships players are just as open to the idea!
Source: press release
Articles Related to World of Warships
How Not to Release a Premium Ship: The World of Warships Graf Zeppelin
World of Warships: Operations and How to Sink 'Em
World of Warships Game Page