It is a very rare occasion to have one singular quest in World of Warcraft ever piss me off. Not agitate me, per se, but fill me with such an intense blinding rage and confusion as to make me question its very existence. That isn't to say that such quests aren't, at times, warranted. Infamous ones such as Wrathion's Valor Gating for the Mists of Pandaria legendary cloak have been used in the past to regulate the acceleration for top-end players. Others, like infamous Vanilla 'Alliance Tower Escort' were terrible not due to their design but the implications of performing it in such a massive world with interfering elements and players. None of them, however, quite stack up like 'The Eternal Traveler.'
The Eternal Traveler is an oddly unique quest which put a bad taste in my mouth before it began. For those of you not in the know, World of Warcraft: Shadowlands has, like its predecessors, a Digital Collector's edition for pre-order. For the new expansion, however, Blizzard-Activision has their editions broken down into multiple fields. The base copy, as always, comes with the expansion and early-access to Death Knights for all races much like Battle for Azeroth unlocked Allied Races in Patch 7.3. Then there are TWO different Collector's Editions.
The Heroic Edition includes some of the standard fair. While it includes a Level 120 Character Boost to use instantly, it also includes the Ensorcelled Everwyrm Mount (unique to the Collector's Editions) as well as a brand-new Cosmetic Transmog Set. The Epic Edition, which is an additional $20 USD, includes a cosmetic Weapon Enchant, a Pet (which usually comes with the regular Collector's Edition), and a new Hearthstone toy in line with other Holiday Toys.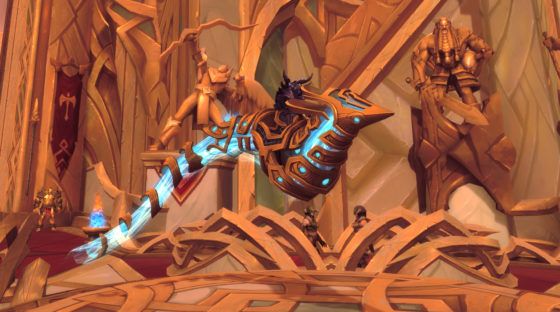 Those who follow my previous work know I have little issues with pre-orders or Collector's Editions, but I do have an issue with multiple versions. The practice, made famous by Ubisoft's Watch Dogs series, has resulted in multiple companies creating multiple types of 'Collector's' products with varying objects between them. While, thankfully, Shadowlands' editions at their apex contain everything you might be looking for if you're purchasing at previous expansion's full price, it still sets a very worrying standard.
With that in mind, you collect your initial rewards from either edition. Unpacking the Enscorcelled Everwyrm for a test-ride you'll be able to click on an interactable object just behind the saddle. This will summon the newest object of your frustrations, Xolaritos, which begins the promised questline for your transmog appearance. Belonging to the Eternal Travelers, they have moved between the veil of worlds for untold millennia. Calling Oribos their home in the Shadowlands, they've now come to Azeroth in sensing the rising presence of Death. You can strike a bargain with them, for the right price.
Xolaritos wants Echoes of Mortality. When the living die, they leave behind fragments of their life force behind. The strongest of Azeroth's denizens leave behind resonant pieces; portions that tremble with the life they used to have. Collect 40 of these and not only will you become an ally of the Eternal Travelers, but you'll receive their unique transmog appearance. All of the textures and animations are unique (so far) and haven't been seen in-game. The set, overall, is REALLY cool and looks fantastic.

This, at the outset, is an excellent opportunity and idea. Even in just giving you those bare details, it sounds like an EXCELLENT start to an intriguing quest; perhaps a lead-in to the ideas about what the growing influence of death means. While there is the trepidation of perhaps locking 'content' behind an exclusive paywall, you can do quite a lot with just a little. Recent goers of the War Campaign's finale can find such a concept littered with Lor'themar Theron. After witnessing Sylvanas Windrunner utterly destroy Saurfang in their Mak'gora, he among several characters remarked about her using magic they had never seen before. That is VERY interesting and opens up quite a bit of possibility for exploring that in Shadowlands.
The Eternal Traveler decides to forgo that by instead creating the most obfuscating and infuriating questline ever.
In reality, killing any creature in your level bracket will feasibly drop Echoes of Mortality. Within your first few kills per day you will earn anywhere between 4 to 6 Echoes. Initially starting the quest you'll get the impression that you can quickly complete the quest for your transmog. This is not to be.
After your initial gain the drop chances reduce to a pitiful number. The highest numbers reported by WoWhead, that do not come from raid enemies or PvP-tagged targets, are a little over 1%. Most are far below that threshold, dwindling into a 0.5% range, making individual drops as difficult to obtain as Invincible's Reins from Icecrown Citadel. This resets after the daily lockouts clock over for your server, meaning that at 8am server time, you'll once more be able to gain 4-6 Echoes from one mob.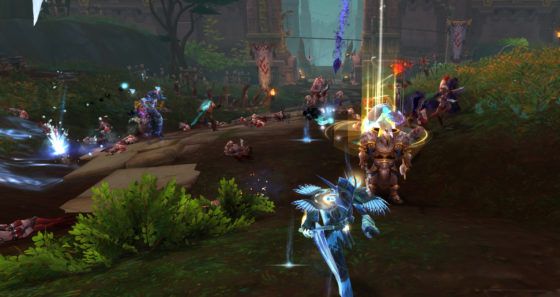 This is content gating at its finest. Those purchasing any collector's edition are now essentially paying for one quest which requires hours upon hours of grinding for a cosmetic appearance with no additional lore or incumbent excitement.
This results in this very real scenario: in an effort to quickly grind through this incredibly arduous and needlessly time-gated quest, players are using the group finder. There, they are gathered together to kill as many densely packed mobs as humanly possible in the shortest amount of time to maximize their chances at getting even one Echo to drop. The two well known hotspots are the Blood Gate in Zuldazar, and the Dabrie Farmstead in Arathi Highlands. I once spent a little over 2 hours grinding through over 400 mobs for a measly 5 Echoes.
The reality is that this is all based off of luck. If you're willing to put in the time, and you're incredibly lucky, you'll be able to soar through the needed Echoes with little difficulty. However, a grind that players are essentially buying into should not be faced with the same amount of time-sinking that Insane in the Membrane or Rated PvP requires. It is, by and large, no less than a slap in the face to adopters of the new Collector's Editions. Forced arbitrary grinding for the impatient, and a needless time gating for those willing to wait. Add that to your collection tab.