Feelgood Friday: 8 Amazing Games With Female Protagonists Feature in the Humble Heroine Bundle
Written by Ollie Bradley at 03/10/2023, 03:40 AM
The Women's History Month bundle raises funds for the Girls Make Games Scholarship Fund and Girls Who Code.
The latest Humble Bundle has dropped, and has this time marked International Women's Day and Women's History Month with an array of games with female protagonists. The bundle is an absolute steal, and with a portion of the proceeds going to charity, it would be remiss to miss out.
March is Women's History Month in the USA, UK, and Australia - a month that pays special attention to the societal contributions that women have made throughout history. Contributions that include the development of some of our favorite video games. Which is why Humble is raising money in this bundle for Girls Make Games Scholarship Fund and Girls Who Code.
Girls Who Code has managed to help close the gender gap in tech by delivering summer programs, educational clubs and college and career programs to help women and girls get their foot in the door to the world of tech. Girls Make Games, meanwhile, is a newer nonprofit with a similar mission.
The Humble Heroines: Warriors, Dreamers, and God Slayers bundle includes the following games:
Control Ultimate Edition - an action adventure game with a supernatural protagonist

Syberia: The World Before - the latest in the acclaimed Syberia graphic adventure series

Praey for the Gods - a non-linear action-survival adventure akin to Shadow of the Colossus

Hellblade: Senua's Sacrifice - a visually stunning and mind-bending exploration of Norse mythology and psychosis

Batora: Lost Haven - a post-apocalyptic sci-fi action adventure

Sable - an open-world exploration game with a distinctive art style

Dreamscaper - a roguelike with a waking/dreaming gameplay cycle

Call of the Sea - a narrative-heavy adventure game of mystery and love set in the 1930's South Pacific
Typically, buying these games would run you as much as $234. Humble Bundle is offering all eight for a grand total of $15. Not a bad price for a decidedly impressive selection of games with female protagonists. Plus, you know your money is headed to a great cause.
OGPlanet originally launched its casual racing MMO Tales Runner back in April of last year. Since then, the game has gathered a small yet loyal following. If you have never taken the time to try the game, you might find yourself pleasantly surprised. Tales Runner features tons of different tracks to race on and lots of customization options. Starting today, Tales Runner can be downloaded and played via Steam.
For more information on Tales Runner, please visit the official website.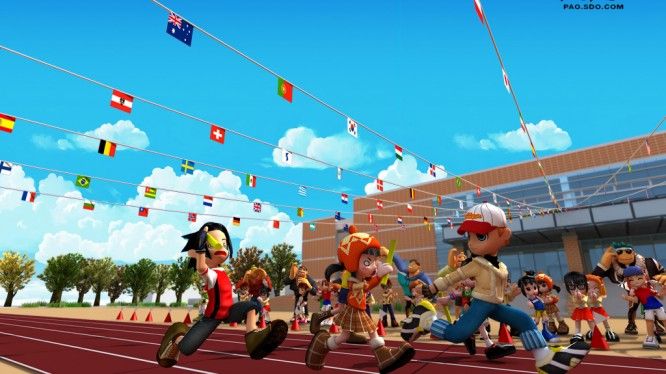 Famous Fairy Tale Maps: Race through tracks based on your favorite Fairy Tales such as Jack & the Bean Stalk, Alice in Wonderland and many more.

Intense PvP: Compete against your friends and other opponents in intense PvP racing with up to 20 players in various game modes such as Relay, Co-Op or Team. Those up for a real challenge can try their luck at Survival Mode where it is truly survival of the fittest.

Challenging PvE: Play against various magical enemies and confront epic bosses from legendary tales. You better team up with a friend though, these bosses mean business.

Social MMO: Meet your friends in the Park and chat about your exciting races and victories or invite them to your farm where you can raise your pet and grow crops to sell.

Animal Racing: Raise and train your pet to become a four legged speed machine. Prove to your friends that you have the fastest pet by challenging them to an epic animal race.

Mini-Games: Take a break from the intense racing to play some fun and casual mini-games such as a Jeopardy style quiz game, fortune tellers and more.