Bin Weevils is a free to play browser based online game and social community. Based upon the popular Bin Weevils cartoon series on Nickelodeon, and in the online world of Bin Weevils, players can compete in fun games, hang out and chat or party with friends, and decorate their own personal house, their "nest" with furniture and items from the Shopping Mall! Players earn experience and in game money by planting and caring for their personal garden; as the plants thrive and grow, the characters grow, too! From watching a movie with friends in your nest's private cinema to racing against other Weevils in go karts, Bin Weevils offers lots to see and do!
Bin Weevils Game Features
Grow Your Own Garden – Grow your garden with seeds you plant yourself, arrange the layout, and spend your mulch to buy special plants. Tend your garden and maybe you will win the weekly award for having the best garden in the game!
Play Games Alone Or With Friends – Players can play many types of mini-games, from racing games to puzzle games, to clay pigeon shooting games! Players earn mulch which they can use to purchase plants for their garden or items for their nest!
Decorate Your Nest – Your nest is your home, and it's up to you to make it awesome! Invite your friends over to hang out, customize your nest to make it awesome, and maybe even win the weekly Best Nest trophy!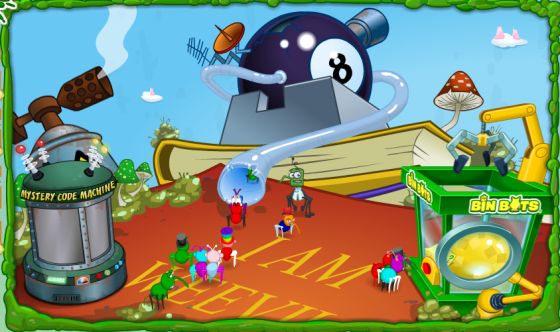 Read more about Bin Weevils