Call of War, also known as 1942: Call of War, is a free to play, browser-based real-time strategy game which invites you to command the forces and fight the battles of World War II. Take over the control of one of the warring nations during World War 2. Conquer provinces, forge alliances and build your economy. Research top secret weapons  and become the one true superpower! Intelligent alliances or ruthless expansion, wunderwaffen or mass assault? It is up to you which way you choose!
Fans of the board games like "Risk" or "Axis & Allies" will love playing Call of War. This strategy game can be played with up to 30 friends. Every player can play multiple rounds at the same time to try out new strategies. Tank battles, naval warfare, air combat. Command your troops, research secret weapons, and conquer your enemies in this grand strategy online game. Are you ready to rewrite history?
Call Of War Key Features
Real Time Combat – Units which move in real-time, attacks progress in waves. The battlefield is fluid; your responses should be too.
Vast World – Many different maps and scenarios, based on real-world places and actions.
Massive Battles – Up to 30 real opponents can fight at one time!
New Technology – Huge Tech tree with over 120 different units. Research keeps you ahead of the enemy!
Navigate The Terrain – Different terrain types demand your tactical genius and determine the best approach.
Take To The Sky – Complex Air warfare adds a new dimension to combat.
Secret Weapons – Research secret weapons, up to and including the world-changing atomic bomb!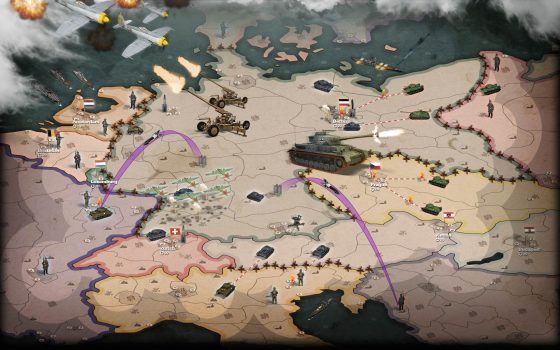 Related: Browser, Free to play, RTS, Strategy, World War II
Read more about Call of War