NOTE: Development of Cardfight!! Online has been halted indefinitely.
Cardfight!! Online is a free to play online digital card game based on the popular Cardfight!! Vanguard card game, a physical card game played in over 50 countries worldwide. In Cardfight!! Online, players step into the role of the Vanguard, powerful warriors and leaders of warring clans on a distant planet named Cray. It falls to the players to assemble a deck of creatures, ranging from faeries to dragons to dinosaurs, and then use strategy, tactics, and timing to defeat their opponents and advance the aims of their clan. Can you assemble a deck, hone your skills, and then defeat all challengers in the fast paced, unpredictable battlefield of Cardfight!! Online?
Cardfight!! Online Key Features
Huge Variety Of Cards – Cardfight!! Online features a huge array of cards, just like its predecessor Cardfight!! Players will have access to cards from the English Edition Cardfight!! Vanguard G series and later, and there will be ways for players to obtain cards from the older sets!
Earn Rewards – Players can complete daily and weekly challenges to earn special in game rewards. The game allows players to obtain new cards through the use of in-game currency, as well as through the game's premium shop.
Tournaments – Compete in tournaments for prizes and fame! Cardight!! Online offers an immense range of strategies and tactics, and each Clan offers unique approaches and problems. Can you piece together that perfect deck?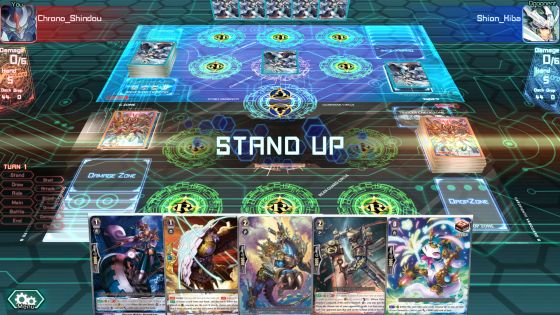 Related: CCG, Free to play, Shut Down
Read more about Cardfight!! Online