Dreadnought is an aerial armada action game from Grey Box and Yager with a distinct sci-fi look and intense, tactical feel. Players take command of massive capital ships in the sky within the title's core competitive and cooperative multiplayer suite and its episodic, single-player, story-driven campaign. Distinguished by a range of classes, subclasses, and varied progression paths, each warship is a force to be reckoned with, bristling with dynamic armaments and fully customizable to make your opponents crumble beneath the might of your bow.
Step into this story, into this era of war and hardship — but for the mercenary, it is an age of plenty. Fortune favors the captain who fights under no flag, who builds a reputation not on rank, but on grit and fortitude. The time has come to collect your bounty amid a galaxy in chaos. Load the missiles. Activate the shields. Prepare to engage!
Dreadnought Key Features
Dominate The Skies – Step into 5v5 warfare in space and across the skies of different planets. As a mercenary captain, your motivations are simple: to reap the rewards of battle and build your reputation—and to be fearless doing it.
Diverse Ship Classes – Specialize in a ship class that offers heavy, assault, sniper, support or scouting capabilities, from speedy corvettes and destroyers to powerful dreadnoughts. Further refine your playstyle with multiple subclasses.
Customize Your Ship – Customize every detail of your ship, from guns and armor, to electronics, to decals and paint jobs! Literally millions of different builds are possible!
Fight As A Team – You and your fleetmates must work as a cohesive whole. Claim victory by working together, utilizing your team's strengths and exploiting enemy weaknesses. In Dreadnought, success in battle comes to those who fight as one.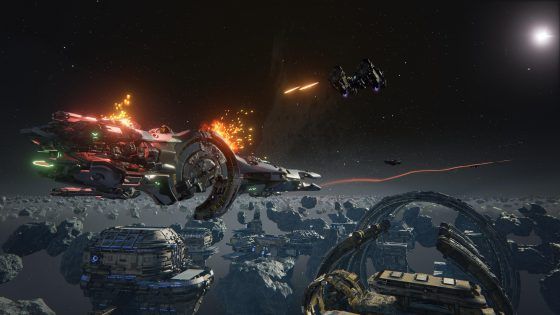 Related: MOBA, PvP, Sci-Fi, Spaceships
Best Space MMO of All Time

System requirements
CPU:

Intel Core i5-4690T - 2.5 GHz

RAM:

4 GM RAM

HDD:

11 GB Available Space

Video:

DirectX 11-compatible video card with dedicated 1 GB memory
Read more about Dreadnought