Become the leader of a powerful medieval army to fight against evil demonic forces threatening the human world in the free-to-play MMORPG Eternal Fury.
In Eternal Fury, there is a specific order to life: gods and giants inhabit the Divine Realm, the undead and demons live in the Underworld, and everyone else lives in the Human World. The order of the three worlds is supported and maintained by the Titans who have turned themselves into Yggdrasil eons ago. Everything could be peaceful if it wasn't for Hel, the leader of Underworld. The goddess has made it her goal to take over the Divine Realm because she wants to give the creatures of Underworld more than what they have. Her plan is to sneak devil troops through the human world to pass through the gates of the divine realm unnoticed.
It is up to you to stop her plan from becoming reality. Ever since the Gates of Underworld were opened again, Demons have been roaming around the Human World. As an avatar of Prometheus, it is your task to fight them all and restore the order of the three worlds. To achieve this, you are given a castle of your own. Here you will build a strong and loyal army by hiring soldiers and expanding your stronghold. Slowly, you will strengthen your territory and become a force to be reckoned with.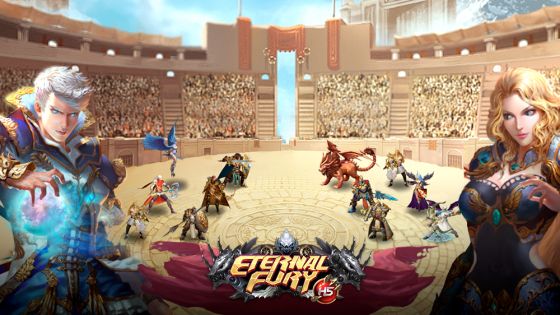 The free-to-play game Eternal Fury innovatively combines turn-based RPG gameplay with SLG game elements. This makes for a varied gaming experience that never gets boring. The MMORPG features unit upgrades, a strategic class system, castle construction, and numerous side quests that will keep you on your toes.
The rich fantasy world of Eternal Fury is presented in colorful 3D graphics and features gorgeous fighting effects. This makes for immersive turn-based combat that will immerse you in the innovative fantasy world. With hundreds of locations to explore and equally as many incredible adventures to enjoy, the medieval fantasy game features more content than you could hope for.
Eternal Fury is available for free in the browser of your choice.
Read more about Eternal Fury
Unfortunately, there are no articles for this game... Yet.