Family Barn, known as Family Farm Seaside on mobile, is a free to play browser and mobile based multiplayer online farming sim which lets you create and manage your own farm. You begin small, with a little plot of land that you can plant some crops on, but the sky is the limit! As you harvest your crops you can sell them, using the resources gained to keep growing! Plants all manner of crops and fruit trees, tend to their needs, and harvest their yield. Purchase animals and feed them, raising them for market. You can even add buildings to your farm like mills which refine what you grow into more valuable products. Roll up your sleeves and get your pitchforks; farming is tough work!
Family Barn Key Features
Reap And Sow – Plant a wide array of crops, fruit trees, and more, and take care of their needs. When harvest time comes, your efforts will be rewarded.
Barnyard Friends – Raise animals such as cows and chickens, and feed and water them. Feed them clover, carrots, and more, and raise happy animals!
Build Up And Out –  Expand your farm by adding special structures. Build mills and facilities on your farm to produce more farm products such as flour, bread, coffee, and wool.
Play Together –  Farm life is hard work, but help from neighbors is close at hand in this friendly farming community. You can help each other out by visiting each other's farm and sending useful gifts!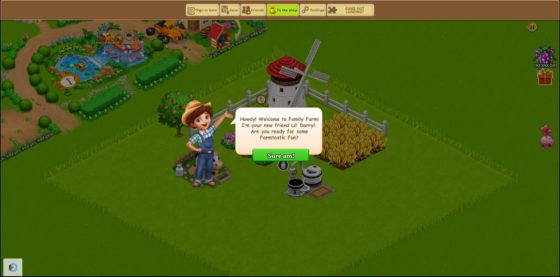 Related: Browser, Farm Sim, Free to play
Read more about Family Barn
Unfortunately, there are no articles for this game... Yet.