Goodgame Empire is a browser strategy game game in which you become the lord of a castle and turn your small fortress into the capital of the entire kingdom in this exciting online strategy game. Establish an efficient economic system and assemble a mighty army to defend your realm and extend your territory. Forge alliances with other players worldwide to crush your enemies, and become the sole ruler of a mighty empire!
As new lord of a castle in Goodgame Empire, start a campaign with a small wooden castle and a few buildings. But with a solid strategy the rise to being a powerful sovereign with a flourishing economy, a mighty army and many provinces is not far. Every user can develop his castle. Different buildings in various upgrade stages are at each player's disposal. Step by step a small fortress can be transformed into a huge stone bastion. The player needs the buildings in order to produce commodities or to make a stand against other players.
Goodgame Empire Key Features
Create Your Own Kingdom – Over 60 different buildings, multiple upgrade levels for buildings and units an countless decorations for personalizing your castle
Be Part Of A Massive Community – Alliance and pact system unique to Empire, convenient and helpful alliance chat and more than 70 million players worldwide
Fight In Exciting Battles – Strategic and versatile battle system, more than 50 different military units, powerful and customizable equipment items and epic battles in four kingdoms.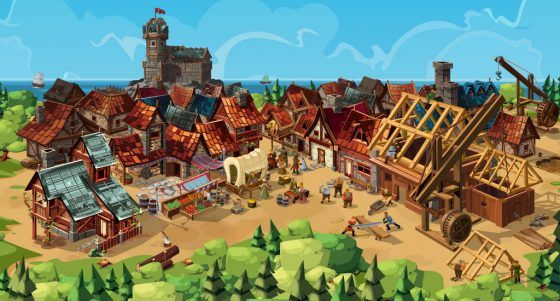 Related: Empire, Medieval, Strategy
Read more about Goodgame Empire