Governor of Poker 3 is a free to play social poker game which allows you to compete against thousands of other players from all around the world. You can play Governor of Poker 3 on Steam, in your browser, or on your favorite iOS or Android device. Prove once and for all that you are the Wild West's number 1 Texas Hold'em player! Embark on a long journey through Texas to become the most famous poker pro in the Lone Star State. Start as a rookie and work your way up through the ranks to become a VIP poker player. As a high-roller, you can play thrilling high-stakes games in the Gold Area against toughest opponents north of the Rio Grande! Now draw, and we'll see you at the River!
Governor Of Poker 3 Key Features
Cross Platform Play –  Governor of Poker 3 is a cross-platform game, so you can start on your laptop or PC, and continue on the go with your tablet or mobile phone.
Life Of A Poker Pro – Rising to the big time in the world of poker isn't easy. You begin play with nothing but your trusty Cowboy Hat and a handful of chips. How far up the ranks can you climb?
Loads Of Game Modes –  Play in 5 different poker formats: Cash Games, Sit & Go Tournaments, Push or Fold, Big Win Poker, and Royal Poker. You can also play Blackjack if you prefer!
Social Experience –  Play poker against friends new and old. Invite folks to your private table for a friendly game. You can even use the chat feature to bluff and taunt your way to victory!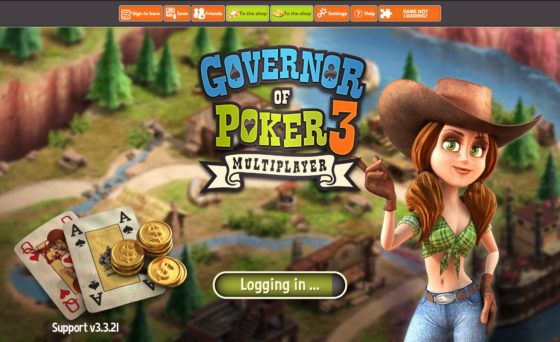 Related: Android, Browser, Gambling, iOS, Mobile, Social MMO, Steam
Read more about Governor of Poker 3
Unfortunately, there are no articles for this game... Yet.