Mars Tomorrow is a free to play sci-fi space exploration and colony building/strategy game for mobile devices and PC, where you take on the role of a colonist on Mars! Your goal is successful colonization of the planet in order to transform it into a green planet. The player takes the role of a brave colonist, who leaves Earth behind. Earth has become nearly inhabitable; your only chance is to survive successfully on Mars. The settlement project is called Mars Tomorrow and is the beginning of the operation 'Life on Mars' and let you start colonizing Mars with other new Martians. Work together to build a better tomorrow, on Mars!
Mars Tomorrow Key Features
Transform A Planet – Mars is known as the Red Planet. But this is going to change in Mars Tomorrow. Humans inhabited the once hostile to life planet and took care of turning it into a green and habitable place. By terraforming, Mars is becoming a planet for the new Martians. You will need to work together to make this dream into a reality.
Overcome All Odds – Human living conditions are hardly met on Mars as it is. The red planet seems to be bleak and arid – not even grass grows in the dreary wasteland. At the beginning of your mission you need to gather resources, which are urgently needed for the colonization of Mars. These include water, oxygen and carbon dioxide. Can you do it?
New Global Economy – At first glance, Mars Tomorrow appears as a simple building game. However, with increasing population comes a significant increase in the challenges of the economic simulation part of the game. All tasks must be coordinated, so that the economy does not collapse and the survival of the population can be ensured.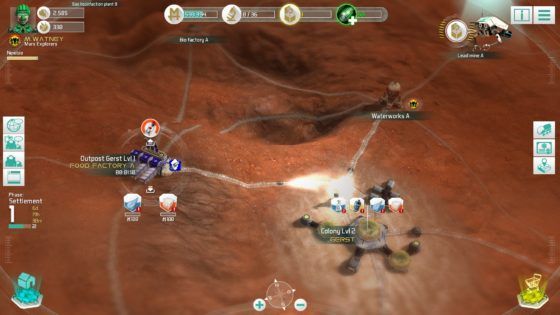 Related: Android, Browser, Free to play, iOS, Mobile, space exploration game, Strategy
Read more about Mars Tomorrow
Unfortunately, there are no articles for this game... Yet.