Moshi Monsters is a 2D Kids MMORPG that allows players to adopt and raise a monster, customize their own house, and play mini-games to earn currency. It's free to play, but they also offer a paid Moshi Membership that gives players access to a host of exclusive extra features.
Successfully nurturing a Moshi Monster is no mean feat. It takes a variety of skills that a child can develop over time. Kids will need to think creatively, hypothesise, strategise, manage resources, collaborate with friends, and nurture a wide variety of other skills that could extend positively into their everyday lives. Players earn "Rox" by solving a wide range of fun daily puzzles with their monster. These puzzles are easy to start with, but become increasingly challenging as the child's skills develop. The puzzles cover a wide range of skills including numeracy, logic, spatial awareness, geography, anagrams, and vocabulary.
Monsters love words and communicate with their Monster Owners regularly via speech bubbles, to encourage reading. Their moods are visually represented and also expressed by a printed word in their virtual room. Since their moods can change regularly, your child has plenty of opportunity to learn new vocabulary. For instance, their monster might be feeling "jubilant" one day, but "melancholy" the next.
We passionately believe that children learn best when they're having fun and this principle is right at the heart of Moshi Monsters.
– Mind Candy LTD
Moshi Monsters Key Features
Earn Rewards – Playing games and solving puzzles to earn virtual rewards, called "Rox"
Grow Pets – Growing and collecting pet 'Moshlings' in their garden
Meet Your Friends – Socialising with friends and family
Stay Up To Date – Reading the latest Moshi news and entering competitions on The Daily Growl blog
Quests For All – Completing "Super Moshi" missions
Collect Them All – Collecting ultra-rare Moshlings
Your Own Touches – Personalising their Monster with custom colours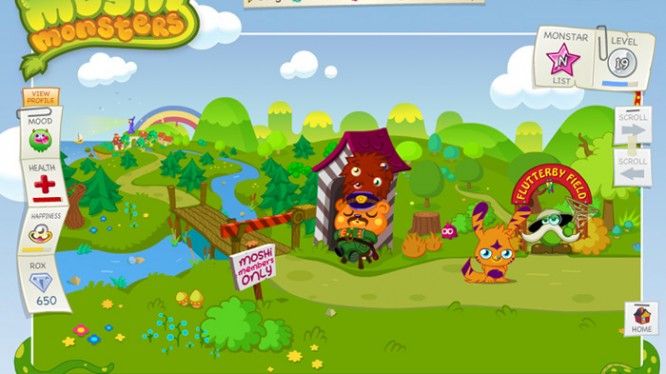 Related: Free to play, Kids
Read more about Moshi Monsters