Survived By is a free to play retro-style fantasy survival MMO in which up to 100 players fight side-by-side in a bullet hell-style battle where permadeath is just the beginning. Mankind has been pushed to the end of extinction by an otherworldly corruption, but a few stalwart folk stand up and fight back. Create a character, grab your weapons, and face off against the encroaching darkness. Every time you die, you're survived by a new descendant who carries a small part of your legacy with them, so your progress is never wholly lost. Fight alongside loads of other survivors as you shoot your way through hordes of fearsome monsters, explore dungeons, collect loot, craft gear and of course, die! Who will you be Survived By?
Survived By Key Features
Choose Your Role – Select one of several classes (Alchemist, Harbinger, Infiltrator, Sentinel, Geomancer, Druid, and more to come!) to experience each one's unique powers and capabilities.
Massively Multiplayer – Adventure, fight, explore, and die, with up to 100 other players on a gigantic shared map. Dodge bullets, craft weapons, kill monsters, and of course, die!
Permadeath And More – Unlike traditional roguelikes, players regenerate health, survive longer, and don't need to dodge everything to stay alive. When they die, they lose almost everything… but not all! Their descendant will carry on their fight!
Intense Action – Bullet hell style combat awaits. Dodge attacks, engage your enemies with steel and spell, and overcome fearsome monsters.
Craft Epic Weapons – Players craft and wield powerful projectile weapons as they confront an array of Beasts, Infernals, Furies, Spirits, and more on their journey!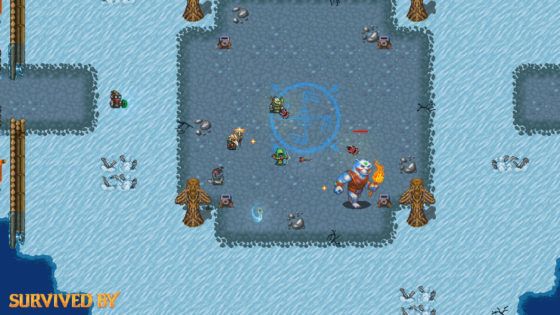 Related: Fantasy, Free to play, Survival
Read more about Survived By