World of Warcraft is a popular subscription-based fantasy MMORPG by Blizzard Entertainment. Spawning from the RTS franchise, WoW features multiple factions, races and classes. Embark on an epic journey across many continents in one of the most popular fantasy MMORPGs ever made.World of Warcraft is an online game where players from around the world assume the roles of heroic fantasy characters and explore a virtual world full of mystery, magic, and endless adventure
Legion is World of Warcraft's 6th expansion and features: New continent: The Broken Isles, New class: Demon Hunter, Artifacts, All New Dungeons and Raids, New World Bosses, Level cap raised to 110, Revamped PvP progression system, Improved transmogrification system, Improved social features and Character Boost—immediately raise one character to level 100 …and more!
World of Warcraft Key Features
Factions – In Warcraft, there are two large, opposing factions. On one side is the noble Alliance, which comprises the valiant humans, the stalwart dwarves, the ingenious gnomes, the spiritual night elves, the mystical draenei, and the bestial worgen; On the other side is the mighty Horde, made up of the battle-hardened orcs, the cunning trolls, the hulking tauren, the cursed Forsaken, the extravagant blood elves, and the devious goblins.The harmonious Pandaren stand between these opposed races — in the name of balance or personal philosophy, they may join either faction. Choose your allegiance carefully.
Always Something To Do – World of Warcraft is a truly massive game. Between the original game, regular patches that add new content, and four full-fledged expansions hundreds of hours of gameplay content await you.
Questing – A large amount of World of Warcraft revolves around questing. These tasks or missions are usually available from non-player characters (NPCs). Quests usually reward the player with experience points and in-game money that the character can then spend on buying new skills and buying new equipment.
All Types of Quests – Killing quests, Gathering quests, Wanted quests, Announcement quests, Exploration quests, Daily/weekly quests, Rescue quests, Loot quests and Invitation quests
Group and Raids – Some of the harder challenges in World of Warcraft require players to group together to defeat them. These usually take place in dungeons or in separate zones, also known as instances.In the Legion expansion new dungeons and raids are added.
PvP – There are a lot of different player versus player styles. Some expansions brought new pvp mechanics and modes. The Legion expansion brings a revamped PvP progression system.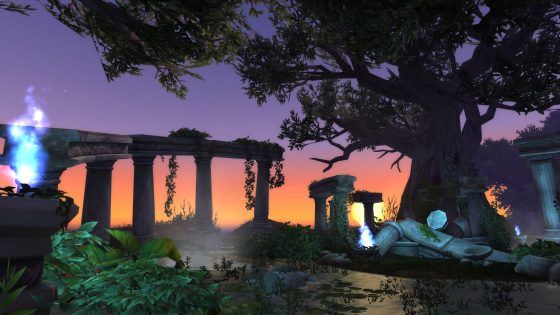 Related: Blizzard Entertainment, Fantasy, World of Warcraft
2018 MMO Recommendations

System requirements
CPU:

Intel Pentium® D or AMD Athlon 64 X2

RAM:

2 GB

HDD:

25 GB

Video:

NVIDIA GeForce 6800 or ATI Radeon X1600 Pro (256 MB)
Read more about World of Warcraft