Last week saw the announcement that WoW would be receiving its very own Community Council. And if anyone thought that the biggest voices in WoW (i.e. it's most popular streamers) would be at the front of the queue - they'd be wrong. As top WoW streamer, Asmongold, had his application rejected. As for the reasons why: your first assumption is probably correct.
Asmongold Rejection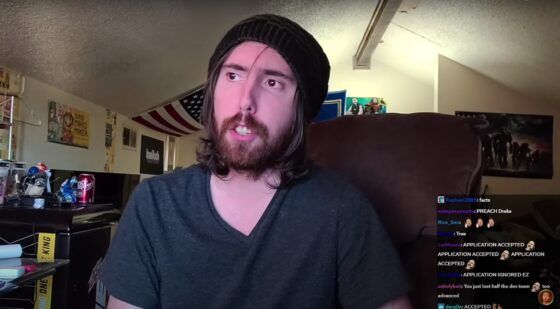 Asmongold is famous for airing his grievances with Blizzard in very public spaces. Not the best foot on which to start an application. But unsurprisingly, the WoW aficionado seized this opportunity to voice his opinions on how WoW can improve. That is a council member's obligation, after all.
In the application, he railed against the tedium that completionists face after he was recently presented with a duplicate transmog. The application itself articulated the feeling that anyone in a similar position feels after watching your time and effort fade into the abyss in one fell swoop.
Delivered in typical Asmongold fashion, the application included some colourful language to get the point across. You have been warned. However, the fact remains that his statements weren't without merit.
Needless to say, his application was subsequently rejected without a single word saying why. Perhaps the devs figured that they'd still be hearing plenty of feedback from Asmongold without the need to have him sit on the Community Council.
ABK Workers Alliance Demands Met
Meanwhile, in a positive turn of events for the ABK Workers Alliance, it was recently announced that Activision Blizzard made some concessions when it came to their contracted workers. The news was shared by Blizzard Senior Test Analyst, Jessica Gonzalez, via Twitter, who called the developments a "huge victory" whilst also insisting that there is more work to do.
Today ABK workers are celebrating a huge victory for our contract workers. This is a result of collective action and there is more work to do! 🙌🏻💙 pic.twitter.com/PNJCTX0DbX

— Jessica Gonzalez 💙 For the Alliance! (@BlizzJess) November 9, 2021
The concessions include a $17 minimum hourly rate and paid time off during Thanksgiving and Winter breaks. It signifies that progress is being made in meeting the ABK Workers Alliance Demands and we're looking forward to seeing even more on the horizon.
MMOGames.com is committed to bringing you all the freshest, funniest, and most insightful MMO news. If you enjoyed this content, why not share it with your community? And make sure that you never miss our updates and exclusive giveaways by following and favouriting us on Instagram, Twitter, and Facebook.