Fall is officially here. The leaves are changing, the weather is getting colder and the season of pumpkin flavored everything is among us. Halloween events are a great way to celebrate the season, and Trion has announced the inclusion of an Autumn themed event in ArcheAge. Players can take part in some special events and get some great rewards for doing so. The event started yesterday and will continue to run until November 4th, the day the new ArcheAge Auroria content patch comes out. Check out the full event release notes for the ArcheAge Hallowtide event at the official website.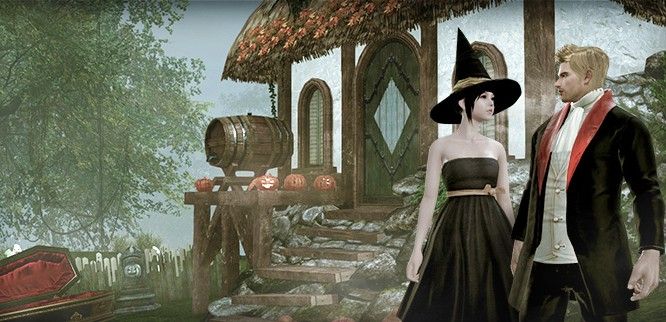 The set the mood, Austera and Ezna, the two major port cities of Erenor, have been decked out in the colors and sights of the season with jack-o-lanterns, pumpkin balloons, party tables, tombstones, and more. Adventurers may also discover Large Pumpkin Lanterns in central locations of both port cities. This decoration grants a Sweet Pumpkin Scent holiday buff which lasts for an hour.
Want to help with the festivities? The Daru are in need of more pumpkins to decorate the event! Complete the Hallowtide Preparations daily quest to earn a Hallowtide Goodie Bag with a random selection of consumables and special event candies such as Greedy Goblin Gummies, Frankenflavor Jawbreakers, and Marshmellow Sugar Pumpkins. We also have Hallowtide cosmetic items for you and your home coming to the Marketplace, so keep your eyes peeled.