The ArcheAge transition from one publisher to another is upon us. It was announced recently that Korean publisher Kakao Games picked up the beloved MMORPG from gamigo. And with that announcement came the promise of simultaneous global updates, and the ability to transfer progress, characters and items safely. Exciting news for many - but there's more where that came from.
Gamigo is relinquishing control of the title in the North America, Europe and Oceania regions, with the full service changeover set to occur on 2nd December. Between now and then, however, ArcheAge players will be required to complete an account transfer. And it seems the new guardian comes bearing gifts. Including a shiny new trailer lauding the players' efforts in building ArcheAge into the game it is today. Aren't they sweet?
By visiting gamigo's
[
Glyph
](https://store.trionworlds.com/account/profile/change-oauth-flow.action)
platform to obtain a data transfer code, and inputting the code into Kakao Games' newly launched
[
transfer website
](https://archeage.playkakaogames.com/transfer)
, players will find themselves inundated with a heap of rewards, including:
Astra Wings x1

Wrapped Firetalon Ostrich x1

Wrapped Brilliant Hiram Guardian Weapon: Epic x4

Wrapped Brilliant Hiram Guardian Armor: Epic x7

Epherium Cloak Crate x1

Noryette Ring (Heroic) x2

Noryette Earring (Heroic) x2

Proven Warrior Necklace Box x1

Bound Serendipity Stone x4

Icon Swap Certificate x3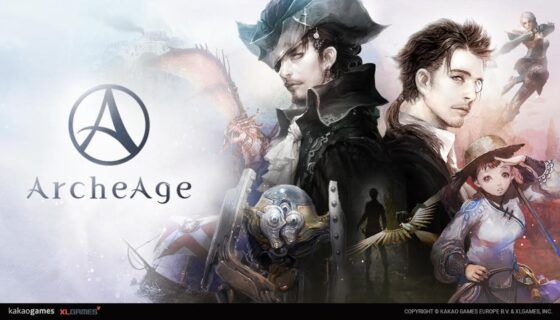 These rewards will appear when the ArcheAge transition comes to an end on 2nd December. Additionally, updates including the Black Thorn Prison instance, the long-awaited Guild Housing debut and a brand new skillset will also be implemented immediately.
It's exciting times for ArcheAge fans as we potentially see a reinvigoration of the fan-favourite MMO. Be sure to create an account with Kakao Games in the meantime, and watch the ArcheAge socials for any further updates as they occur. Meanwhile, pay close attention to gamigo whose attentions appear to be focused on their new, dark, and mysterious MMO.
MMOGames.com is committed to bringing you all the freshest, funniest, and most insightful MMO news. If you enjoyed this content, why not share it with your community? And make sure that you never miss our updates and exclusive giveaways by following and favouriting us on Instagram, Twitter, and Facebook.