Around nine months since the release of its Art of War Charity Pack, Arma 3 has emerged victorious. As we reported earlier this year, the Arma 3 charity pack was released in order to raise funds for their long-standing collaborators, the International Committee of the Red Cross. And $155,783 later, we'd say it was a success.
100% of the revenue from the Arma 3 charity pack will go to the ICRC. And the funds will support the organisation's mission to ensure humanitarian protection and assistance for victims of armed conflict and other situations of violence.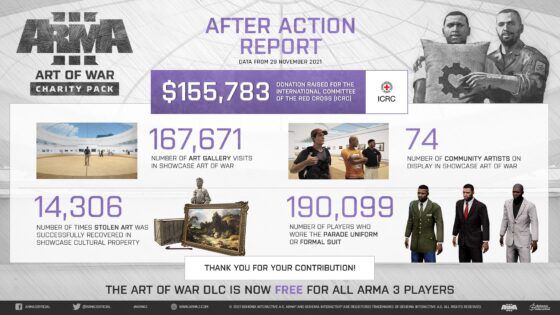 "We are very grateful to Bohemia Interactive and to all the players who made a donation to the ICRC. Our collaboration over the years is a strong example of the synergies that can be developed across communities, offline and online, and this donation will make a clear difference in the life of thousands of people," said Marek Resich from the Resource Mobilization division at the ICRC.
The charity DLC itself, which included an in-game art exhibition featuring artwork and screenshots from the Arma 3 community, is now available to download for free. During the last nine months, players could download the pack via Steam for just 1.99USD/EUR/GBP, or at optional price tiers of 4.99 USD/EUR/GBP and 9.99 USD/EUR/GBP.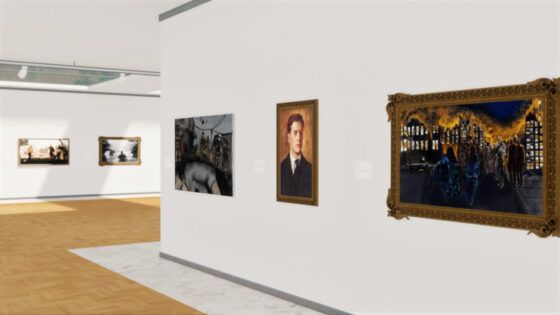 About 84.4% of people bought it at the standard price tier of 1.99 USD, 5.4% got it at the middle price tier of 4.99 USD, and 10.2% purchased the highest 9.99 USD price tier.
The Game Theorists Raise $1.6 Million
In even more feelgood news ('tis the season, after all), we're happy to report that The Game Theory $1,000,000 Challenge was also a huge success, as The Game Theorists star-studded charity livestream managed to raise more than $1.6 Million for St. Jude. Happy weekend!
MMOGames.com is committed to bringing you all the freshest, funniest, and most insightful MMO news. If you enjoyed this content, why not share it with your community? And make sure that you never miss our updates and exclusive giveaways by following and favouriting us on Instagram, Twitter, and Facebook.