Black Desert has reached its two-year anniversary on PlayStation. Which, of course, is cause for celebration. And Pearl Abyss have pulled out the stops this year with a totally free DLC bundle replete with useful goodies. And in the name of spreading the love, even Xbox is invited too.
The beautiful Black Desert has enjoyed no small measure of success in recent months. Success that unsurprisingly coincided with the unveiling of its newest class: Corsair. So as more players continue to flock to the beautifully rendered worlds of BDO, we expect that there will be plenty of console players keen to get their hands on some celebratory freebies.
What's in the BDO Gift Pack
The Special Gift Pack DLC contains a bunch of in-game items, including:
Treasurable Memories Classic Box (perhaps the most valuable item included which contains a classic costume for the player character)

x5 Combat & Skill EXP 300% Scroll (to help level up faster)

Advice of Valks (+60) and Mystical Artisan's Memory Bundle (to assist adventurers in enhancing their equipment and gear)

X3 Jay's Special Scroll (which will increase item drop rate by 100%) This item can also be stacked with other Item Collection Increase Scrolls.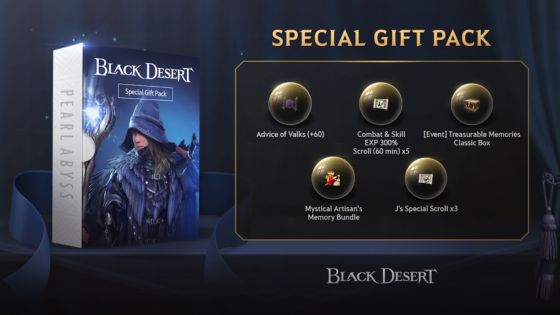 Celebratory Event
But that's not all. A slew of in-game events and rewards will also be waiting within Black Desert as part of the celebrations. The special attendance rewards are particularly valuable this time around, including a Caphras Stone Bundle, Marine Romance Outfit Box and a Blessing of Old Moon Pack.
Play-time challenges will also dispense rewards such as Ancient Spirit Dust, High-Quality Draught Box, and Golden Seal of Panto to help adventurers level faster.
So if you're a BDO console player, be sure to grab your free BDO Gift Pack as it will be floating around the PlayStation store and Microsoft store until the end of September.
MMOGames.com is committed to bringing you all the freshest, funniest, and most insightful MMO news. If you enjoyed this content, why not share it with your community? And make sure that you never miss our updates and exclusive giveaways by following and favouriting us on Instagram, Twitter, and Facebook.