What do you make your avatar do while you're AFK? Sit on a ledge? Endlessly dance? Stand there looking cute? Well now Black Desert Online players can do a whole lot more thanks to Black Spirit's Training, a system that lets their characters earn XP while their players are out making a sandwich or walking their doggo.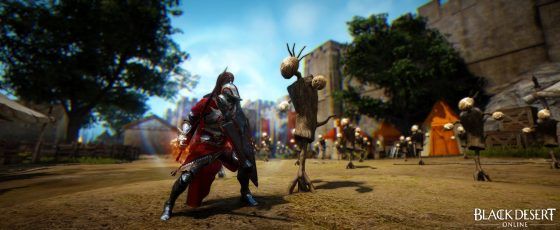 With today's update to the sandbox MMO, players can now visit an NPC to pick up a Book of Training item. Once activated, players can whack away at the scarecrows in the game's larger cities to earn combat and skill XP without doing anything else. In addition, this XP gain also works with XP buffs.
The update has also brought some adjustments to Savage Rift horde mode. Monster spawns have been reduced by around 40% and the cooldown timers for siege weapons like the hwacha have been reduced by 50%, which makes each match of the horde mode now run about 20 minutes. These changes have also seen a reduction to rewards per playthrough, but the time spent to reward ratio should make the mode feel more worthwhile overall.
Naturally, there are some other adjustments one will want to check up on, so take a moment to look over the patch notes if you haven't already.
Our Thoughts
In all honesty, having an AFK XP earning system is pretty smart. We just hope that there are enough scarecrows for everyone to whack at because this system will very likely be a popular addition.
Source: press release