Now that the launch of Black Desert Online is finally upon us, it is time to clean out all those beta screenshots and get ready for the real thing. As a die-hard explorer in MMOs, one of my personal litmus tests for evaluating new games is turning off the UI after I got the basics down and just head out into the blue. Will I be able to immerse myself in this world? Does it look natural, feel atmospheric enough? Is it shiny? I care about that stuff; I care about the textures on a tree stump on close-up, the way the weather changes in the clouds above and how the rain drops sound as they hit the ground. In order to really dig into the simulation of an MMO, interfaces need to go.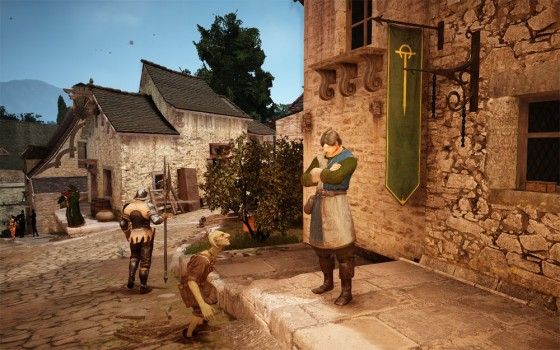 Taking a plethora of screenshots, as I wander around aimlessly, is a professed passion of mine in online games. Every game I ever played, whether I enjoyed it long-term or not, gets its own dedicated screenshot gallery. Therefore the first thing to do is figure out how to hide the user interface that stands between me and wonderland. It is a huge vexation whenever a game gives no such option or won't allow you to enter any sort of first-person or spectator mode in order to hide yourself for scenery shots. I am looking at you, early Guild Wars 2! No, I do not want to lie down all the time.
Fortunately for their audience, Pearl Abyss takes the screenshots business very seriously, as is only right for an MMO of Black Desert's visual splendor. The trickier part is actually finding out about some of the most amazing features for your photographic purposes. In fact, the first time I hid the UI via the "Ctrl+U" shortcut and entered cinematic mode, I was a little irritated: Why does the game suddenly go all blurry around the edges? This effect got even worse after scrolling into first-person view, to the point where taking crisp screenshots was impossible. That's when I headed to my trusted search engine on the internet, because surely there must be a way to make my pictures look as fantastic as the game I am playing? Turns out, yes there is! After finding out a few tips and tricks, I put together this Black Desert Online screenshot guide.
Making full use of basic camera commands
After hiding the UI with "Ctrl+U" and thus entering cinematic mode, there are several camera adjustment options that can dramatically alter angle, composition and quality of your shots. As listed over at BDO tome, there are a few vital camera commands that everyone should know:
<↑>, <↓>, <←>, <→>: Moves the camera view.
<Ctrl> + <↑>, <↓>: Adjusts the camera focus (highlight function).
<Shift> + <↑>, <↓>: Adjusts the field of view (FOV).
<Shift> + <←>, <→>: Tilts the camera to the left or right.

From blurry to crisp to a tilted image.
These few basic commands will already enable you to improve your shots a great deal. Experiment away until you find the best adjustments for a perfect picture, with or without your character present. Scroll in if you would rather just capture the scenery. Find elevated spots that allow for a better overall view, such as small hills, towers and rooftops.
Experimenting with photo filters
Once you know how to handle the camera, it's time to play around with different color and grain filters. The first can also be accessed via the in-game settings menu for permanent change but it's much handier to use these shortcuts while in cinematic mode:
<Ctrl> + <Shift> + <↑>, <↓>: Cycles through color filters.
<Ctrl> + <Shift> + <←>, <→>: Applies grain filter and vignette.
[caption id="attachment_58591" align="aligncenter" width="560"]

Cooling filter, evening mood and sepia.[/caption]
Color filters drastically change the face of the game. While they're funny to play around with, most of them are strictly for screenshot purposes. However, it's worth checking them out in the main settings too because the standard recommended setting for filters is "vibrance," which I personally find overly saturated. I prefer not having any color filter on at all or then running with the "filmic" option.
The grain and vignette filter is nice in certain, rare screenshot situations; besides adding a grainy quality to images, the vignette darkens the edges around your screen to emphasize whatever you're focusing the camera on.
Spectator / Observer Mode
Another easy to miss feature in Black Desert Online is its spectator mode. This mode will allow you to leave your character behind completely, while taking the camera for a free spin around your closest vicinity. The range of the free camera is unfortunately restricted but it will still allow you to take the kind of wide angle and aerial perspective shots you otherwise never could.
The way to enter spectator mode is to either lean your character against a wall or sit down and then press 'R'.
[caption id="attachment_58590" align="aligncenter" width="466"]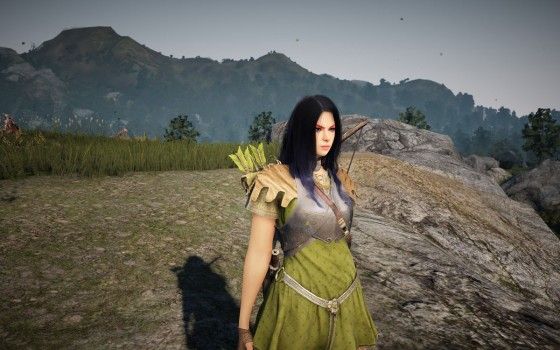 She is not looking at the camera![/caption]
A few more tips & tricks
Now that we've covered all the basics of our Black Desert Online screenshot guide, there are just a few more tips and tricks worth sharing:
Having a lantern equipped impacts on the overall lighting and therefore quality of your character shots. Remove the lantern if you want to take crisp pictures of your character that aren't overexposed.

While in cinematic mode, keep pressing 'U' for the slow-motion camera. This feature will let you take some epic combat screenshots.

If distant scenery still looks blurry in your adjusted screenshots, make sure to uncheck "Screen Filter" in your in-game settings, under the screen tab and graphic quality options.

Tired of your characters always staring at the camera? You can actually make them look straight ahead by pressing <Ctrl> + <Shift> + left arrow key. You are welcome!
And with that, you are fully equipped to go on that next screenshot journey and get the most out of your Black Desert Online experience. As you take a few hundred or even thousand pictures of the game, consider sharing some of them with us - we love pretty adventure shots!