We're knee-deep in trailers following a big weekend of E3 festivities. So to save you some time in wading through it, we thought now would be a good time to compile some E3 2021 highlights. After all, Marvel single-player space sagas are good and all, but we're here for the best stuff: the Multiplayer-verse of Madness. And for that, we (mostly) have the Xbox/Bethesda showcase to thank.
Halo Infinite Gets the Warzone Treatment
With a graphical overhaul that was received more warmly than last year's reveal, Halo Infinite's trailer came with the announcement that its multiplayer mode (which, by the way, looks positively stellar) will follow a similar model to Call of Duty's Warzone. Which means it will be free to play and deliver content in seasons. Listen out for the 'music to your ears' moment at the 30-second mark.
Sea of Thieves
Whether the Sea of Thieves' big reveal was an air-punching or eye-rolling moment really depends on how you feel about Disney's Pirates of the Caribbean. For our money, however, we'd say that the majority of SOT players were at least inwardly jigging. After all, the multiplayer swashbuckler is so heavily inspired by the persistent film franchise that it was really a matter of time. A Pirates Life is set for 22nd June.
ESO Enhanced + TES6 Location Confirmed?
Good news for Series X|S and PS5 holders (apart from the fact that they own an X|S or PS5) as ESO is getting a remaster. A prettier, higher-FPS ESO is coming to next-gen consoles with touch-ups to "draw distance, antialiasing, reflections, lighting, and more". Does this mean that ESO is doing a 'Skyrim', taking up the mantle as chief distractor from the distinct lack of TES6?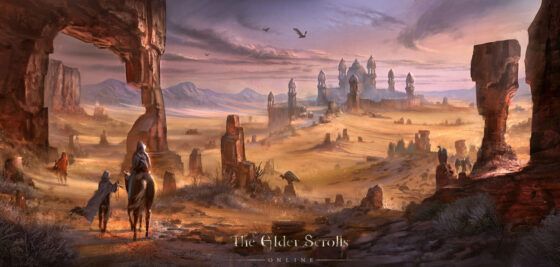 Well maybe, but if you want a morsel of speculation, then maybe this Reddit post will keep you satiated. Apparently, a map that looks kind of similar to the north-west cost of Tamriel (i.e. High Rock and Hammerfell) can be seen as a weird-looking scratch in the Starfield trailer. Could it be a stretch? Probably. But would an E3 2021 highlights list be complete without a possible Bethesda Easter Egg for fans to dine off until 2022? Probably not.
Extreme Sports MMO
And finally, this last one is less Starfield and more 'left-field'. A fresh take on a busy genre comes in the form of an extreme sports MMO: Riders Republic. Skiing, biking, or wingsuiting are just a few of the sports that more than 50 players (on next-gen consoles) can partake in, set in a beautiful backdrop where the laws of physics are, apparently, optional. If that sounds like your cup of tea, Beta sign-ups are open.
----
Other E3 2021 highlights include a new zombie survival co-op shooter from Left 4 Dead creators called Back 4 Blood (released 12th October). Plus, a long-awaited Age of Empires IV reveal (released 28th October). And finally, Capcom's announcement of the return of its Street Fighter 5 Capcom Pro Tour tournament. Now let's take a breather before the final day of revels.
MMOGames.com is committed to bringing you all the freshest, funniest, and most insightful MMO news. If you enjoyed this content, why not share it with your community? And make sure that you never miss our updates and exclusive giveaways by following and favouriting us on Instagram, Twitter, and Facebook.