Where do you go to kick back and relax after a long day of building your mobile civilization? To the Friends Tavern, of course! The new content being introduced to the mobile strategy title Forge of Empires lets players create a social space that can net them boosts for the game.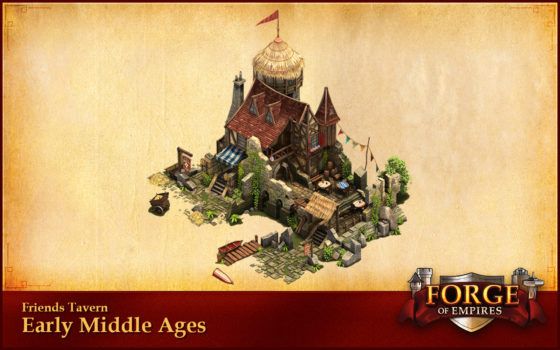 The Friends Tavern becomes available during the Bronze Age, and sits outside of the city's grid. Inside, a table which seats four is on offer, but can be upgraded to seat a maximum of 16.
Why visit the tavern? In addition to (presumably) delicious digital beer, visitors also automatically generate a currency known as Tavern Silver, which is collected by the game's host. Tavern Silver can be spent to get boosts that improve supplies and gold or protect you from aggression. Taverns of friends can be visited once a day in order to help players on a friends list get their own Silver.
Taverns can be upgraded to seat additional friends, which in turn generates more Silver, but upgrading won't stop there. The devs of Forge of Empires are also looking to introduce customization to let players decorate their Tavern any way they like.
A video explaining the new content can be seen below.
Our Thoughts
Many mobile games offer ways for people in a friends list to help each other out, and the Friends Tavern sounds like a great way to introduce a cooperative aspect to the title. The entire system is dependent on making sure you have a large and active friends list, of course, but many people who enjoy these kinds of games are overall very dedicated and should make the Friends Tavern system work well.
Your Thoughts
What do you think of the new Friends Tavern feature? Is this something you think will help players in-game or does it unbalance things? Give us your thoughts below.
Source: press release
Articles Related to Forge of Empires
Forge of Empires Releases Guild vs. Guild
7 Great Looking Mobile Games You've Never Heard Of
Netmarble Plans to Release 26 Mobile Games in 2016