The mobile gaming giant Netmarble announced 26 new titles scheduled for 2016 at its recent media event.
During the "Netmarble Together with Press" media event, the publisher disclosed information regarding its 2016 mobile lineup including: Lineage II, Blade & Soul, and TERA. Apparently, Netmarble has teamed up with NCSoft in order to transition the company's popular games to the mobile platform.
While most of these new titles are scheduled to release in Asia, quite a few intend to make their way over to North America and Europe. Netmarble already has a decent presence in the West, with games such as Marvel Future Fight, Seven Knights, and Blade Waltz.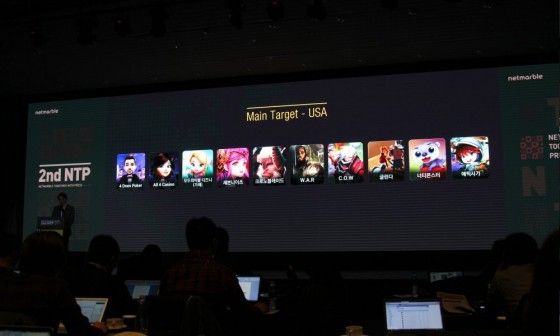 A few images from a panel at the event show the difference between the South Korea and North America targeted games, however, these don't include the NCSoft crossover titles. There are also a wide-variety of genres ranging from action brawlers to CCGs.
Our Thoughts:
The mobile gaming world has exploded in the past few years and it only makes sense for developers and publishers to continue to push out new content. Revenue for mobile has increased steadily year-over-year and it is now the most profitable digital platform. Unfortunately, most games that come out are still a little lackluster, but the rapid increase in technological capabilities should allow them to catchup in terms of gameplay in the near future.
Source: MMO Culture
Related:
Blade & Soul
,
Lineage
,
MMORPG
,
Mobile
,
Netmarble
,
News
,
TERA