Spell-slinging, cel-shaded, free-to-play Battle Royale Spellbreak has already gone some way to making itself stand out in a somewhat saturated genre, what with its fantasy spin on a genre typified by guns 'n' grenades. Well, in the most recent news from award winning indie game studio Proletariat, Spellbreak is breaking the mould once more by weaving a narrative into the Battle Royale formula.
From 15th December, Spellbreak will introduce Chapter 1: The Spellstorm via an update which is also set to overhaul Castle Bogmore, bringing vastly improved environments and points of interest. As for the new story itself, players can take part in 12 weeks of free, story-driven quests specifically designed to merge with the core mechanics of the game.
The Spellstorm sees the Hollow Lands in an ever-changing state of ruin thanks to the Fracture and resulting titular Spellstorm. Vowbreakers are set to compete for the ownership of various invaluable artifacts that may hold the secret to pushing back the Spellstorm and reclaiming the Hollow Lands. Over the course of the storyline, players will meet three brand new NPC characters as the narrative twists and turns throughout the 12-week period.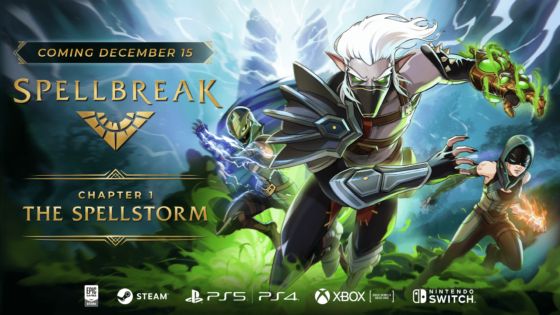 "Chapter 1: The Spellstorm is really the launching pad for a truly innovative Battle Royale experience that blends together storytelling and gameplay," said Seth Sivak, CEO of Proletariat. "Not only are players going to get a fun way to experience more of the Spellbreak universe but also weeks of engaging content complete with some awesome rewards."
Needless to say, if you've yet to try your hand at the free-to-play Battle Royale title then it's probably worth giving it a go ahead of time so you can confidently tackle The Spellstorm when it finally lands. Three of us here at MMOGames have already tried our hand at Spellbreak, and we'll be publishing our experiences within the next week, so watch this space. In the meantime, visit the official Spellbreak website for more info - and keep an eye out for its imminent arrival on Steam.
MMOGames.com is committed to bringing you all the freshest, funniest, and most insightful MMO news. If you enjoyed this content, why not share it with your community? And make sure that you never miss our updates and exclusive giveaways by following and favouriting us on Instagram, Twitter, and Facebook.