To help celebrate its 4th anniversary, the popular browser-based MMO Dragon Awaken is keeping the celebrations going with its Version 3.6 Update. Fans of the fantasy RPG genre will delight with the new updates which feature gameplay additions, an extra special event, and Dragon Awaken's premium currency – Amber. After all, we all know dragons love treasure.
"Glory Return"
We're collaborating with the Dragon Awaken team to help them celebrate four years of dragon-shaped success. To help incentivize players who have left the game to rejoin it, players who sign back in will receive an epic new title to celebrate their glorious return. Furthermore, should they login for between 3-7 consecutive days then a Smaug-size horde of in-game goodies will be bestowed upon them.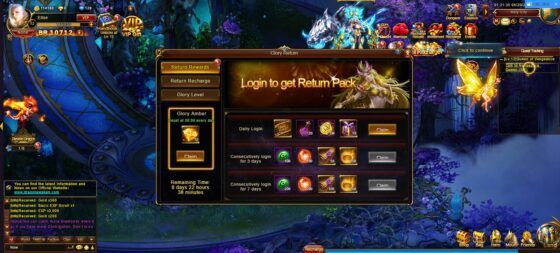 The lavish gifts do not end there. Further rewards are available for those warriors courageous and skilled enough to complete special, rechargeable missions. If, instead, players should choose to enter unknown territory and embark on a new adventure on a new server, these gifts and rewards will be replaced with a generous albeit currently undisclosed amount of Amber (the premium currency of Dragon Awaken).
To initiate and access these rewards simply enter the code "GLORYRETURNCODE" on the Dragon Awaken website.
What else is new is the Dragon Awaken 3.6 Update?
Plenty of new features await players, some of our favourites are the New Fashion Wisdom Mage wielding slick ice-blue robes that match their staffs of energy, as well as one of the cutest mounts we've seen in a game in a long time, a rideable Quirky Planet Mount complete with throne, goggles, and balloons (fitting for an anniversary celebration).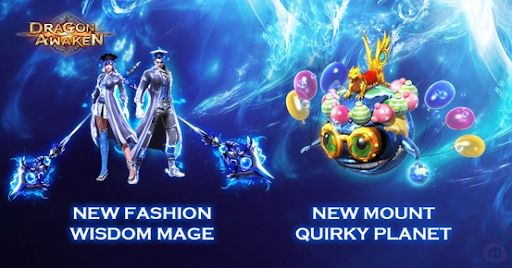 These are just some of the customizable additions to be added to Dragon Awaken's impressive roster. There are plenty of fashionable items, mounts, dragons, skills, and development trees to explore and develop. By the time you're finished, you will have shaped your epic hero into the legendary saviour of the world of Dragon Awaken.
About the Game
For players as yet unfamiliar with the dangerous fantasy world of Dragon Awaken, players take the form of noble dragon knights. The gameplay is shaped by five key facets:
Armors: Through combat, adventuring, and exploration, players can unlock legendary armor forged by dragonfire. Impressive animations see these armors transform in battle granting their players mythical powers.

Heroes: As well as their primary character, other heroes of the land will bravely step forward to aid players on their quests – fighting alongside them until their final breath.

Factions: Players must choose between the rival factions of Amity and Supremacy. Once they have chosen their alignment, players can call on their allies for help in battle. Only one faction will reign victorious, so choose your allegiance wisely.

Dungeons: From forgotten tombs to dragons' lairs, there are plenty of dungeons to explore, each rich with loot, materials, and equipment. Players can join their allies to explore perilous multi-dungeons for even rarer rewards.

Dragons: Last but certainly not least, the dragons that give the game its namesake come in six different types – each once infused with a different elemental power. Dragons not only act as valiant mounts for players to ride into battle but play a key role in the combat. Their dragonite powers increase players' power ratings, and just like the heroes themselves will evolve through experience until they reach their final deadly form – the supreme goddesses.
Dragon Awaken Update 3.6 is now live, so what are you waiting for? Go and reap the rich rewards and rule the skies.
Play Now: https://www.dragonawaken.com/client/dl6.action
Dragon Awaken Official Website: https://www.dragonawaken.com/
Dragon Awaken Official Facebook Fan Page: https://www.facebook.com/DragonAwakenEN
MMOGames.com is committed to bringing you all the freshest, funniest, and most insightful MMO news. If you enjoyed this content, why not share it with your community? And make sure that you never miss our updates and exclusive giveaways by following and favouriting us on Instagram, Twitter, and Facebook.