We have even more anniversary news today as the free-to-play superhero browser game, Hero Zero, celebrates 9 years of fighting evil and upholding justice in the superhero town of Humphreydale. The laid-back and lighthearted title boasts around 34 million users on 175 global servers, and while the Hero Zero anniversary celebrations don't involve a bonafide PC giveaway, there's still plenty of in-game goodies to get stuck into.
In Hero Zero, players assume the role of a superhero within the town of Humphreydale, a town whose quaint name belies its apparent true identity as a hotbed of crime and villainy. From day one, you must learn the ropes as you thwart the sinister designs of Humphreydale's seemingly limitless thugs who just won't learn their lesson. Each successful mission then earns you XP and coins with which to level up and buy some snappy new gear.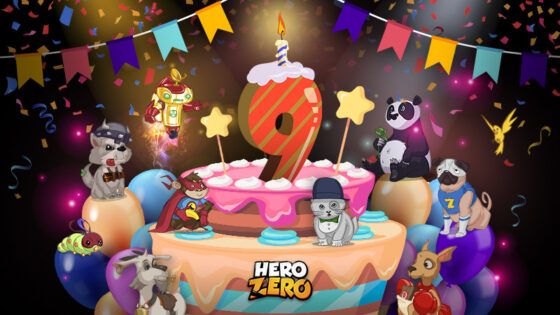 But now, not-so-straightlaced superheroes can sink those coins in the casino, which has thrown open its doors to the heroes of Humphreydale as part of the 9th anniversary celebrations. The casino promises some high-quality rewards and some extra-powerful sidekicks, including two cuddly birthday sidekicks with special abilities and an exclusive new hero set.
Of course, the Hero Zero anniversary will also feature the typical smattering of themed events, some of which are still in the pipeline, as well as some new features. By taking part in these in-game anniversary events, players are promised some exclusive rewards. So, if you haven't already, why not capitalise on the latest casino addition and maximise your rewards by swinging by the official website and creating your hero now?
MMOGames.com is committed to bringing you all the freshest, funniest, and most insightful MMO news. If you enjoyed this content, why not share it with your community? And make sure that you never miss our updates and exclusive giveaways by following and favouriting us on Instagram, Twitter, and Facebook.