The latest title in our Indie Spotlight series is perfect for sci-fi fans with a penchant for anime. Combining an anime artstyle with AAA-graphics, Infinite Fleet is an upcoming sci-fi MMORTS with a story to tell. Inspired by titles such as Homeworld and EVE Online, development studio Pixelmatic, composed of a team that have worked on titles such as Age of Empires, Dawn of War and Mass Effect, aim to enhance a familiar premise with an immersive, player-directed narrative.
Fully-customisable ships and fleets and a player-driven economy are familiar concepts, but the Atrox alien threat works to unite players against a common enemy. Players assume the role of commander within the United Sol Federation and must probe the reaches of a procedurally-generated universe to establish territories, build their power and turn the tide of the war.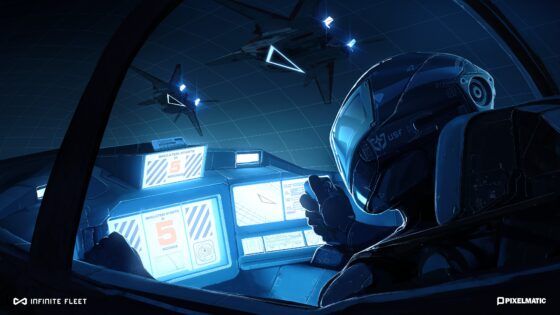 In a recent development, Infinite Fleet announced the involvement of Grammy-nominated composer Vince DiCola. With the aesthetics of the game harkening back to the 1980s, it's exciting to see that the legendary composer responsible for the sounds of the Transformers franchise and Rocky IV has also joined the project to help drive home that 80s ambience.
"Kenny [Meredith] and I are honored to be a part of this project, and we're excited about working with Samson and the rest of the Infinite Fleet team," DiCola commented on the collaboration. "It's a little too early in the process to describe the overall direction of the music, but the material we composed for the trailer is somewhat reminiscent of the hard-hitting synth rock style represented in my score to 'The Transformers: The Movie,' with some more modern and contemporary elements added into the mix. We look forward to working with the Infinite Fleet team to make this project unique and special."
We're looking forward to seeing what's in store - especially the undoubtedly gorgeous screenshots that we expect the community will be sharing. If you share our anticipation, head over to the official Infinite Fleet website where you can register and sign-up for the newsletter as we head towards the first playable alpha.
Do you have any suggestions for our next Indie Spotlight title? Let us know! MMOGames.com is committed to bringing you all the freshest, funniest, and most insightful MMO news. If you enjoyed this content, why not share it with your community? And make sure that you never miss our updates and exclusive giveaways by following and favouriting us on Instagram, Twitter, and Facebook.