One of World of Warcraft Classic's most reputable guilds has decided to shut down. And it may come as no surprise to many to hear that the move was born from a general dissatisfaction with the title's current state. At least, those are the feelings of the guild's owner. The rest of the crew just need to go down with the ship.
APES are - or used to be - a Classic raid group who boast the accolade of being the first to clear the Molten Core raid and take down Ragnaros when it first arose in 2019. Those, it would appear, were the golden days for the APES guild.
In a recent livestream, guild owner Maitoz stated that he was quitting WoW after fifteen years which effectively disbands APES. A consequence that was later confirmed by fellow guild member prefoxfox.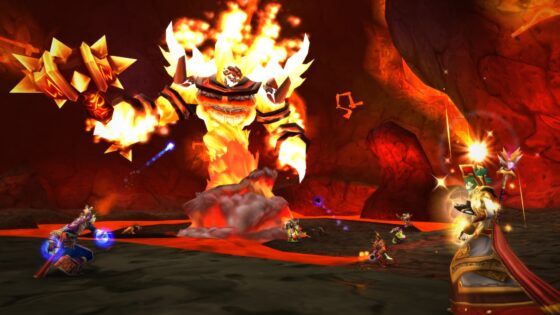 Maitoz stated that he had been considering leaving for a while. Though the main reasons were ostensibly cited as Classic becoming "a money factory for boosters", in addition to a "complete bot meta" and lamenting that there is "no real PvP anymore". A condemnable trifecta.
So while we're beginning to see Blizzard make the necessary changes that will keep its loyal players on board, it seems that for many it's still too little, too late.
Jaina Proudmoore Cosplay Winner
In lighter WoW news, one innovative cosplayer by the name of CosplayByKatie clinched the DragonCon Novice cosplay win with her rendition of beloved WoW sorceress, Jaina Proudmoore. Katie stated, in an interview with Dexerto, that she wanted to bring more attention to Proudmoore's significance in game, as a powerful female character who embodied perseverance.
I won Novice for my Jaina Proudmoore cosplay at @dragoncon! Thanks for all the support and love, I am so grateful 🤍 @Warcraft @Blizzard_Ent @WarcraftDevs @LifeatBlizzard #worldofwarcraftcosplay pic.twitter.com/YHm082ZxAy

— Katie 🫐🌿 (@CosplayByKatie) September 6, 2021
Given that the DragonCon Novice category marked her first cosplay competition appearance, we'd say there are bright things ahead for this cosplayer. And we're excited to see which WoW character she'll bring to life next.
MMOGames.com is committed to bringing you all the freshest, funniest, and most insightful MMO news. If you enjoyed this content, why not share it with your community? And make sure that you never miss our updates and exclusive giveaways by following and favouriting us on Instagram, Twitter, and Facebook.