After highlighting just a few indie titles in our Indie Spotlight series so far, we may have already reached the edge of the indie-verse with this next one. That's because Key To Heaven is about as indie as you could possibly get, with a grand total of one person working on its development over a 16-year period. Now that's commitment.
Following in the footsteps of single-developer titles such as Minecraft, there's something to be said for the fruits of one person's labour. Key To Heaven's sole developer, Björn Johansson, was 16 years old when he first started working on the 2D MMO. Now, at 32 years old, the almost impossibly ambitious project is reaching its zenith as we have a final release date: 26th March. Though to be fair, the game was released back in 2012, but is now gearing up for a major rebirth following a rewrite in .NET and graphical overhaul.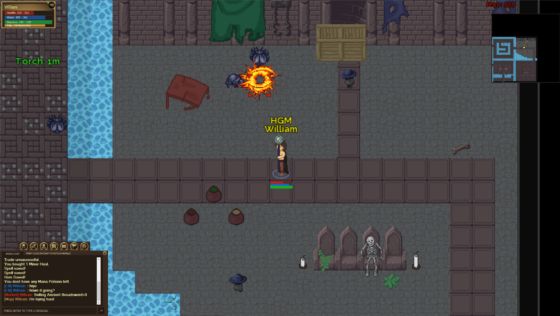 Key To Heaven is a game for fans of the old-school, with a 2D-rendered universe and classic MMO mechanics. Players must fight, craft and explore their way through an open world composed of mysterious islands, with a healthy dose of PvP designed to keep players on their toes. Whether you choose to explore, grind or murder your way through your own playthrough, the traditional style of Key To Heaven will have fans of the genre reminiscing over simpler times. Not to mention its accessibility to those who may be working with more modest set-ups.
With a dedicated fan base already firmly established, the close-knit community and feedback-led development is one of K2H's most alluring features. The project has unsurprisingly garnered loyal support from fans who have been playing since its earliest phases, so it's the ideal space for those who may be looking for a community vibe that may feel diluted in other titles.
Key To Heaven immediately strikes us as an MMO that is good for the soul, so If you want to try it out before its rerelease later this month, there is a playable demo over on the Steam store. If you're looking to try out other MMOs that run on low-end PCs, check out our dedicated list.
MMOGames.com is committed to bringing you all the freshest, funniest, and most insightful MMO news. If you enjoyed this content, why not share it with your community? And make sure that you never miss our updates and exclusive giveaways by following and favouriting us on Instagram, Twitter, and Facebook.