WoW's Mythic Dungeon International is back. And this time, it's three-phased. MDI Shadowlands: Season 2 is introducing a whole new structure, moving away from the traditional Cups format. And with registration now open, perhaps it's time to get the team back together. Because even if you don't come close to winning your share of that $380,000 prize pool, at least you'll have had fun. If you find dungeon-running under unbearable pressure fun, that is.
Three-Phase Groups
In a shakeup of the usual proceedings, MDI Shadowlands Season 2 will feature a three-phase system designed to curtail the time demands from Season 1. Whereas teams would experience a significant level of burnout thanks to the weekly time trials back in Season 1, the all-new system aims to alleviate the pressure whilst increasing the stakes.
Time Trials will determine which teams advance to the group stage, with $80,000 in prize money split across four weekends. Then the top six teams from the Global Region groups, the top team from China and a team from the new Last Stand Tournament will advance to the Global Finals where they can then compete for the remaining $300,000.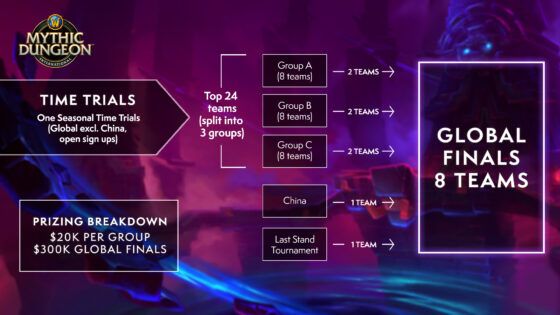 The phases are as follows:
Phase 1: Time Trials (18th - 24th August)
Eligible teams can register on Gamebattles from now until 16th August. They will then compete in the Time Trials between 18th - 24th August, with the top 24 making their way to Phase 2.
Phase 2: Group Play (3rd - 19th September)
The top 24 teams will be divided into three groups of eight, with one group competing each weekend. Each team will have a week to prepare for their matches. And each match will vary in affixes and dungeon keystone difficulty. The teams in Phase 2 will split a weekly $20,000 prize pool, with the top two from each group advancing to the third and final stage.
Phase 3: Last Stand Tournament (Dates TBA)
Finally, the remaining teams will compete in a final open registration Time Trials, with the top six advancing to the Last Stand Tournament. In a similar format to The Great Push, teams will have 15 hours to speed-run keystones across multiple dungeons.
Not only will the MDI Shadowlands be enjoying the brand new format, but the new Seasonal Torment affix will be making an appearance. So there's a whole new world of MDI Shadowlands action to get involved with.
All the action will be broadcast via WoW's official YouTube channel, so be sure to keep an eye out this August.
MMOGames.com is committed to bringing you all the freshest, funniest, and most insightful MMO news. If you enjoyed this content, why not share it with your community? And make sure that you never miss our updates and exclusive giveaways by following and favouriting us on Instagram, Twitter, and Facebook.