We absolutely do not believe that a game has to be beautiful to be enjoyable. I say that as an expert: someone who invested probably 1000 hours playing Snake on a Nokia 3310. However, in these days of lockdown and quarantine, what better way to bring a little beauty into your life than firing up a beautiful MMORPG game?
Now I appreciate it doesn't matter how beautiful a game might be – you're still not going to feel the wind in your hair. If it was possible, though, then these would be the games to do it. Read on to find which beautiful MMO game has been crowned the winner of the beauty pageant!
#5: Astellia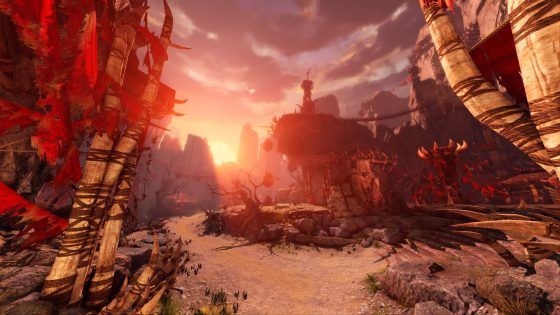 There is one award we can give to Astellia straight away: it has the most extraordinary number of character appearance sliders. If you're the kind of player who insists on shaping every minute detail of your character's ear width, height and position, then Astellia is certainly the game for you.
This is the only game on the whole list to be released (in the West at least) this year. It has, however, been in development for a while, with various releases in Korea dating back to 2014. It runs on Unreal Engine 3, so despite it having only just been released on Steam, it doesn't actually gain any technological advantages over the other games featured in this list. Having said that, it still brings a certain beauty to the table.
The soundtrack also bumps Astellia up the ranking. The music was produced by the South Korean composer and producer Yoon Sang, and he did an incredible job. Some of the soundtrack is slow, moody and ebbing, and other tracks are loud, bright and exciting. I could happily listen away to the soundtrack any time – take a listen.
#4: Archeage Unchained
With some dispute over whether or not to put this game in the list, we've decided to let you make up your own mind. The player population has been on the decline since – well, ever. We wrote in more detail about the trials and tribulations of Archeage Unchained here. Is this game worth playing? We'll leave you to make that choice. Is the game beautiful? Yes!
Just take a look at this video montage showing off Archeage's aesthetic appeal:
We particularly love the oceanography in the game, but we aren't sure whether it is enough to keep us playing forever.
#3: Guild Wars 2**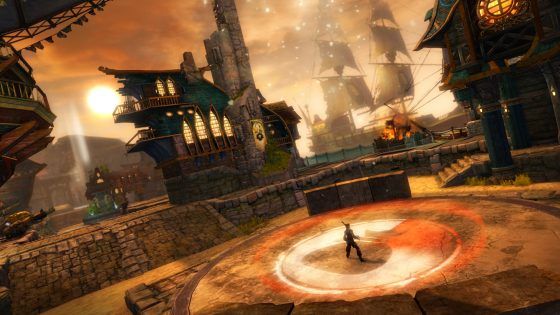 Ring the bell in 'Revenge of the Capricon'
This list would not be complete without the beautiful fantasy world of Guild Wars 2. The graphics aren't quite at Black Desert level, but this game is beautiful nonetheless. Playing the game feels almost like you've jumped straight into a painting. There are quaint farmlands with windmills that turn gently, lush green grass, and a never-ending number of moss-covered ruins, broken columns, and winding rivers. And that just scratches the surface.
Guild Wars 2 consistently maintains a huge user base, and one that shows little sign of dwindling any time soon. The sprawling maps and fantastical elements lead to a beauty that is hard to leave behind, even in an eight-year-old game. The graphic style of Guild Wars 2 doesn't necessarily capture a photorealistic beauty, but more of an artistic fantasy style. The game is full of iridescence: bright, vibrant flowers; water that appears to glisten and sparkle in the sun; bright flaming torches that cast a flickering glow.
How much longer can a game like Guild Wars 2 earn its place in beauty contests? Without a near impossible move to a modern graphics engine – probably not that much longer. Our advice is to take advantage now of the chance to explore the artistically beautiful Guild Wars 2 before it begins to fall behind over the next few years to the relentless march of graphic technology.
#2: The Elder Scrolls Online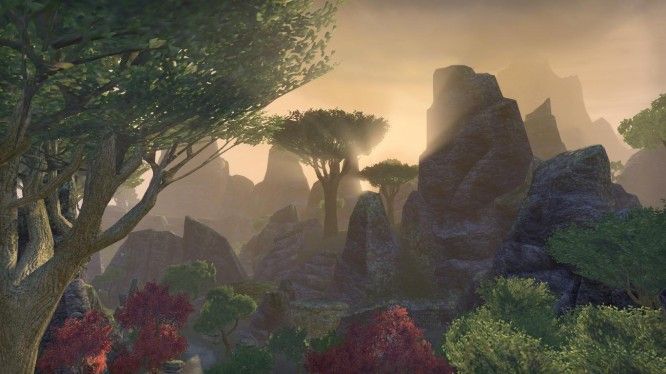 Elder Scrolls Online is another game that fits into the fantasy art aesthetic and doesn't aim for photorealism. It has slightly less of the "vibrant iridescence" of Guild Wars 2, which may or may not make it more beautiful, depending on whose eye is beholding that beauty! The graphics have aged well since the game's release in 2014.
Elder Scrolls Online is a game of quests, battlegrounds, dungeons and roleplay. It is also a game of all seasons. You can almost feel the crisp mountain air in spring-like Rivenspire. The island of Summerset can offer that 'hot sand beneath your toes' vibe as you stare into the ocean. The Rift is so obviously autumnal, with deep red foliage in the trees. And lastly the snowy Orcen Wrothgar is a wonderous winter-scape.
If you've played one of the single player Elder Scrolls games then you might imagine you know what to expect, but that isn't quite the case. You can't freely roam the world quite as much, and you'll be faced with a more linear story. That's not to say that the story isn't as deep or epic as you might expect from an Elder Scrolls title.
If you're interested, the Elder Scrolls Online website has a fantastic media section. You can browse loads of screenshots from the game. Just like Black Desert, Elder Scrolls also has a full orchestral score and all six-and-a-half hours are available here on Spotify.
Our Winner at #1: Black Desert Online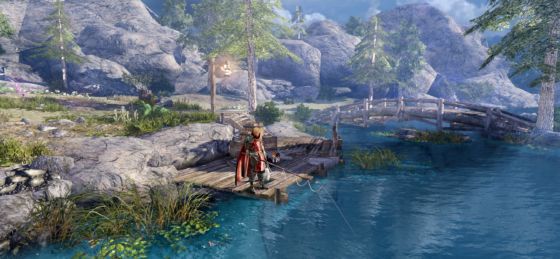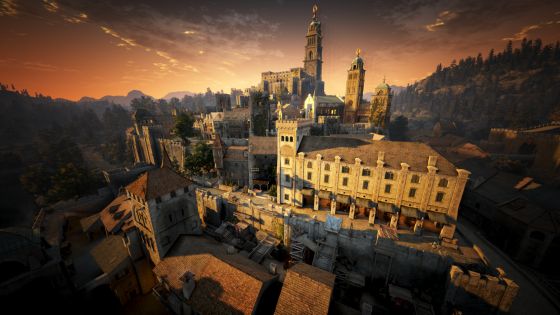 It's easy to lose yourself in Black Desert Online, especially if you roam around at sunrise or sunset. This is the perfect dose of beauty if you're into trees, mountains, waterfalls and… well… deserts!
Black Desert Online would have been a great contender for this list, even when it was first released in December 2014. Four years after release, the game was fully remastered, bringing with it a host of fantastic graphic improvements. Particular improvements were made to cloth rendering, light scattering, ocean rendering, volumetric clouds, and much more. This sandbox MMORPG utilises some of the most advanced graphical technologies, and it shows.
The Display Settings menu is almost as vast as the character creation screen, with options allowing full customisation. There are many guides available on how to tone down the graphics to improve performance if your hardware is struggling, although we highly recommend doing what you can to experience the immersion of this game using its highest settings.
It isn't just the visuals that were overhauled in 2018 either, the sound effects have been re-jigged, NPC dialogue re-recorded, and the original MIDI background music has been replaced with a full orchestral score. Pearl Abyss have released the entire game score for the 3 continents of Balenos, Serendia and Calpheon right here on Soundcloud.
It's so easy to lose yourself spending hours just roaming and exploring the beautiful landscapes. There are hundreds of beautiful vistas viewable from thousands of different viewpoints. You can see the seabed teeming with vibrant life, snow-dusted mountainside villages, or pine tree covered hills as the sun just peeks its way through a misty sky. What's not to love? This MMO is beauty defined, and therefore takes the 'Most Beautiful MMO Game' crown!
Honorable Mention: Justice Online
This game is a piece of
art. Released in China in June 2018, it would absolutely be a feature on this list if it was more accessible to western audiences. There are some simple guides online to help you get started, but please – before you get hooked on the beauty of this game – be aware that it is currently only available in Chinese.
We published a funny little story about this game last year: a man accidentally sells a character worth $1.4m for $500 and then gets sued!
If/when Justice Online gets a release in the west, we might have to consider a new hotlist. In the meantime, we'll let Black Desert Online keep the trophy, and satisfy ourselves by settling into this stunning hour-long montage.
Congratulations to Black Desert Online! Readers, if you think we've missed out any gorgeous games, please let us know in the comments.
MMOGames.com is committed to bringing you all the freshest, funniest, and most insightful MMO news. If you enjoyed this content, why not share it with your community? And make sure that you never miss our updates and exclusive giveaways by following and favouriting us on Instagram, Twitter, and Facebook.