Spellbreak is Proletariat's F2P, cross-platform magical battle-royale bonanza available on PC, PlayStation 4, Xbox One, and Nintendo Switch. To mark the release of their first major update on December 15th, Spellbreak Chapter 1: The Spellstorm, we assembled the MMOGames team, donned our elemental gauntlets, and jumped into some spell-storming, feather-falling, magical madness.
Below, you'll find each of our team's impressions of the game followed by a description of the exciting story-based changes to be introduced in the massive upcoming update.
https://www.youtube.com/watch?v=6Qx7Y1cSUoM&feature=emb\_title&ab\_channel=IGN
Alex, Head of Content @ MMOGames
From hyper-realistic FPS games like PUBG and Warzone to axe-swinging medieval variants like Mordhau and VALHALL, the battle-royale genre has expanded dramatically since Fortnite first dominated the headlines.
With that increasingly saturated landscape, Proletariats magical cel-shaded iteration needed to do something big to make an impression. The game they've created is exciting, colourful and contains unique elements that make for engaging fun-filled combat. Players select an initial elemental gauntlet each containing a standard spell and a sorcery skill. After looting chests, players upgrade their equipment, collect potions, and vital skill-granting runes. Not forgetting the additional gauntlets that can be combined with the primary one for unique combos.
These pickups can lead to high-octane and epic looking combat as players skate along ice-trails, ignite meteors, teleport around the map, and embark on valiant last stands as their enemies surround them. As well as a standard battle-royale mode, the game currently boasts a Clash (team battle) mode.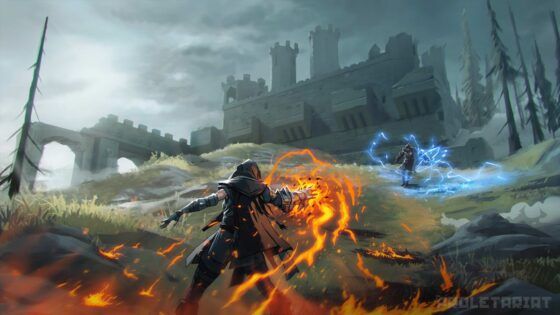 While great fun, the game has a lot that it can and should improve. Lobby waiting times were disappointing, and even after waiting for 5 minutes, we repeatedly found that our 42-player matches contained at least a handful of bots. Furthermore, the map isn't particularly exciting. While Spellbreak hasn't had Fortnite's time and resources to jazz their map up, the environments are largely repetitive mountains and castle ruins lacking in stand-out landmarks that would be useful for navigation. While there are some unique and fun areas such as the labyrinth, if Proletariat truly want to take the game to the next level, then they should reconsider making their maps destructible, or at least make them more varied.
Speaking of destructible environments, Proletariat's Co-Founder and Art Director Damon Iannuzzelli, has said: "Practically speaking though, in a multiplayer game we ended up avoiding it. It's certainly possible. It creates a lot of interesting design results that you know, we weren't really prepared to sort of fully answer and test."
As it stands, the satisfying gauntlet combos and fast-paced combat can only go so far. With Fortnite's season 4 providing an array of similar superpowers, to achieve longevity, Spellbreak must continue to shake up the status quo. Thankfully, that's exactly what the upcoming update promises. 7.5/10
I do enjoy a Battle Royale game. After a few months of Call of Duty Warzone, I was excited to swap guns for magic and tower blocks for fantasy castles. A few minutes into my first game, flying through a ravine coated in poison with fireballs shooting over my shoulder, it was clear that Dorothy wasn't in Verdansk anymore.
While games in Spellbreak start like many other Battle Royale games – by looting chests and structures for gear to get your character to a competitive level, they quickly become an impressive display of superhuman ability, with characters flying (feather-falling or teleporting) around the map and spells of every elemental variety creating a mighty visual spectacle.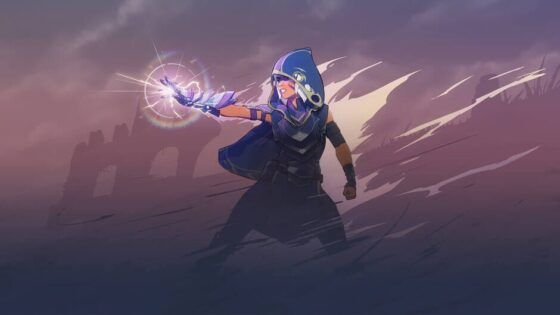 There's strategy under all that flash too, with your choice of 1 of 6 elemental gauntlets, paired with a second which you pick up during the battle, providing combat strategies to suit every player and combo potential which rewards tactical players making sense of the chaos.
Games are quicker than many other Battle Royales, which suits its faster pace and more bombastic combat. Spellbreak is easy to pick up and play, and is great if you can play in a party with friends. Spellbreak is a welcome magical addition to the Battle Royale genre. 8/10
Whether or not bots are present within Spellbreak's first match (which I won, like everyone else) was more or less confirmed for me after subsequent matches saw me scoring just one or two exiles and a handful of assists. I wasn't very good. That being said, it did nothing to detract from the exhilaration of frenzied skirmishes, desperate retreats and touch-and-go attempts to revive fallen teammates (usually me) in the midst of battle. But it was a welcome boost to my ego whenever I did pull off an exile, and I for one wasn't going to let the idea that maybe my victims weren't real take that victory away from me.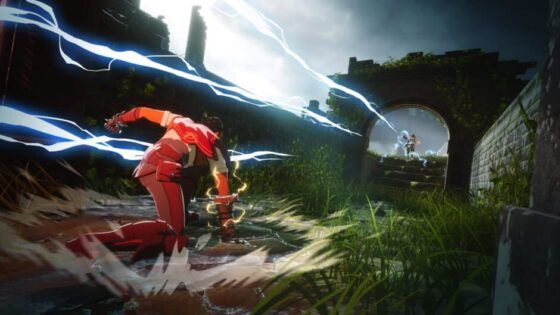 By far the most enjoyable aspect of Spellbreak was tinkering with and half-mastering the tactics that complement your play-style, be it through effective gauntlet combos or the various runes that could sway the tide of battle. I found that I was far more effective with the ice gauntlet's sniping capabilities than the close-quarters scattergun of the poison gauntlet. But nothing compares to pulling off that game-defining combo move such as igniting a gas cloud with a burst of fire to fry your foes - which I totally did, by the way. And it was flamin' beautiful.
On the subject of aesthetics, Spellbreak's cel-shaded world is a pleasure to look at. It's worth stating that the store has no undesirable semblance of a pay-to-win mechanic and purely features badass outfits, accessories, and emotes designed to help you flex and boost your morale and, by extension, prowess in battle. I opted for a sleek golden armour set; but maybe if we were all sporting the 'wolf pack' gear that was on sale before playing like I suggested, I may have fared better in our matches. But for some reason my teammates didn't want to broadcast their association with me. I can't think why. 7/10
Upcoming Updates to Spellbreak
Chapter 1: The Spellstorm will be released on December 15th and will provide free, lore-based, story-driven quests into the Hollow Lands. The result looks set to be a new, battle-royal / narrative hybrid that has a lot of potential.
Speaking of the update, Seth Sivak, CEO of Proletariat, has said, "The Spellstorm is really the launching pad for a truly innovative Battle Royale experience that blends together storytelling and gameplay. Not only are players going to get a fun way to experience more of the Spellbreak universe but also weeks of engaging content complete with some awesome rewards."

The quests will see the Hollow Lands modified in an ever-changing state of ruin due to the Fracture and resulting Spellstorm. In a race against time, the Order of the Vowbreakers seek invaluable artifacts that may help change the storm's tides. As well as being introduced to new NPC characters and items, players will be able to explore the new Deadmoss region as the area around Castle Bogmore is completely reimagined.
What's more, on December 15th, Spellbreak will be available on Steam.