Mounts are coming to Conan Exiles this week according to a forum post made by Funcom Community Manager Jens Erik. The forum post gives the release date of Thursday, December 5th for all platforms. Along with mounts there will be mounted combat and the Riders of Hyboria Pack.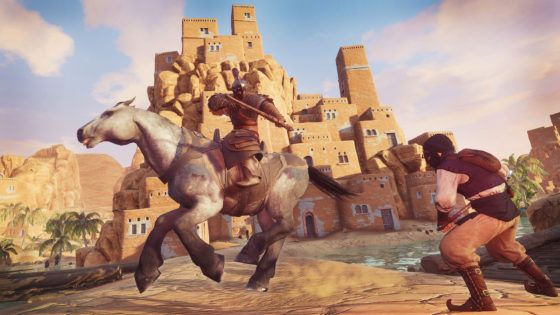 With the new mount system, you will be able to breed and train your horses before riding them into battle while wielding a one-handed weapon. This includes the new weapon archetype, Lances. This new weapon type can only be used while mounted but do very high damage while you're mounted. In fact, damage from lances increases by the movement speed of the mounted player. New equipment and building placements will be included to help you with your horse training including saddles and stables. You'll be able to find foals (baby horses) in various locations around the world which you can pick up and put in a stable. Help them grow big and strong by feeding them and before you know it you'll have your own rideable horse.
You'll also be able to bring your mount with you in the new Follower Leveling System. This will allow you to level up your mount as well as your Thralls and Pets through combat just like you level yourself. Followers are granted stat-points which are automatically distributed through a weighted system. Along with this you'll finally be able to name your Thralls. This is a feature that has been requested for a long time now.
This patch will also introduce improved trebuchet mechanics and a number of other quality of life features. It includes new dodge-roll mechanics, momentum-based character movement, combat balancing, and squishing bugs.
If you want to read all of the patch notes, they are quite extensive you can find them in the link below.
Source: Funcom Official Forums