The unfathomably popular mobile MOBA Honor of Kings is receiving an open-world spinoff. It's a wonder that it took this long, given that the mobile original - which has been branded a 'drug' for its sheer addictiveness - stands head and shoulders above its competitors in terms of popularity. If Activision or Ubisoft were in charge, we'd have had at least five "new" games in the last five years.
Finally, however, the infamous mobile MOBA has made the leap into AAA multi-platform territory. The new Honor of Kings game is entitled Honor of Kings: World. Conveying exactly what players can expect with just one tagged-on word.
mechanics as the protagonists take on one big beastie. We then get a peek at the open world that sets this
**Honor of Kings: World**
apart from its predecessor. That, and its stunning next-gen graphics.
The trailer also depicts what promises to be a lore-rich story. Which stands to reason as it has been revealed that award-winning novelist Liu Cixin is responsible for worldbuilding. This is good news for fans of The Three-Body Problem sci-fi novel. A title that is currently being adapted by Netflix.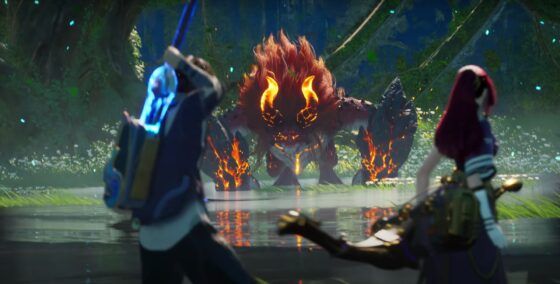 Image: Tencent Games/TiMi Studio
The project has been developed by TiMi Studio of Pokémon Unite and Call of Duty Mobile fame. Though all signs point towards this new Honor of Kings game being a multi-platform endeavour in the same vein as the live service game, Genshin Impact.
The global release date is yet to emerge, though we'll follow closely to see how things evolve.
MMOGames.com is committed to bringing you all the freshest, funniest, and most insightful MMO news. If you enjoyed this content, why not share it with your community? And make sure that you never miss our updates and exclusive giveaways by following and favouriting us on Instagram, Twitter, and Facebook.