Remember when we said that RuneScape is celebrating its 20th anniversary for a whole year? Well, we weren't joking, as next month nostalgic sister title Old School Runescape is making the jump to Steam. You may be thinking: 'Is this really part of their 20th anniversary, or just good timing?' Well who cares, a party is a party - and this is a Steam party.
RuneScape launched on Steam back in autumn, when it welcomed more players than ever to its servers and earned itself a 'very positive' rating, which remains in place now and bodes well for its sibling.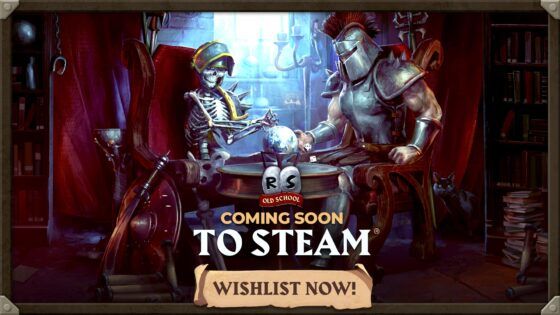 Of course, a move to Steam means the creation of a dedicated Steam Community Hub which will act as the town square for weekly announcements, guides, articles, artwork and videos as well as membership packages and achievements. It comes as part of Jagex's mission to continue bringing the RuneScape universe to a wider global audience, not forgetting that their jump to mobile is already in its early access stage.
"What began as a vanilla server for RuneScape has evolved into an eight-year success story and we're so excited that it's expanding to the Steam platform next month," said Rob Hendry, Executive Producer of Old School RuneScape, "2021 is set to be a huge year for Old School RuneScape with a jam-packed release schedule, and all content accessible with cross-platform play. We're confident that both our community and new players alike will find their time in the game an exhilarating one."
The scheduled release date for Old School RuneScape is currently 24th February, but the Coming Soon page is already up and running. So add it to your wish-list and get excited for the next big step in RuneScape's history.
MMOGames.com is committed to bringing you all the freshest, funniest, and most insightful MMO news. If you enjoyed this content, why not share it with your community? And make sure that you never miss our updates and exclusive giveaways by following and favouriting us on Instagram, Twitter, and Facebook.